Carl Sargeant allegations inquiry dropped by Labour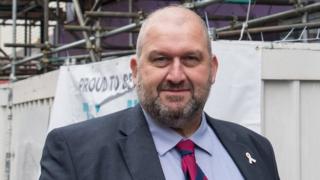 Alleged inappropriate behaviour by former Welsh Labour minister Carl Sargeant towards women will not be investigated by the Labour Party.
The Alyn and Deeside AM was found dead four days after being sacked by First Minister Carwyn Jones.
Labour told the Sargeant family's solicitor the inquiry was closed.
A friend of the Sargeant family said the letter showed that the case against him had been "cobbled together".
Labour general secretary Iain McNicol said it was "no longer possible to take forward any investigation under our procedures".
Mr Sargeant was dismissed as cabinet secretary for communities and children on November 3 after the first minister learned about the allegations against him.
In his letter, Mr McNicol said Labour received an initial complaint on the same day and "was waiting for the formal statement to send to Mr Sargeant when the tragic news reached us of his passing".
"It is no longer possible to take forward any investigation under our procedures and therefore the Labour Party deems its investigation closed," Mr McNicol added.
Labour followed its procedures at all times, Mr McNicol continued, and did not "confer or assume on any individual".
He expressed his condolences to Mr Sargeant's family and friends, and promised the party would co-operate fully with the coroner's inquest.
Mr McNicol also added that Labour "rejects any liability for costs in this matter".
Labour AM Mike Hedges had previously told BBC Radio Wales the investigation should not continue because Mr Sargeant's death meant it was no longer possible for the party to take action against him.
However, Plaid Cymru leader Leanne Wood said it was necessary to "find justice for all of the people involved".
Mr Sargeant was accused of behaviour classed as "unwanted attention, inappropriate touching or groping", but his family says he had not been given any details about the allegations against him.
Mr Jones has said he heard allegations about a "number of incidents" in the week leading up to Mr Sargeant's dismissal.
One of the first minister's special advisers spoke to the women involved before the matter was referred to the Labour Party's main office in London to investigate.