Labour councillor makes Carl Sargeant by-election threat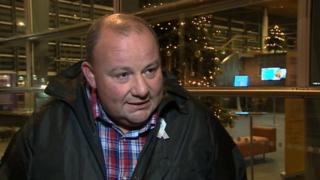 A senior Labour councillor in Flintshire says he will run as an independent in the assembly by-election in Alyn and Deeside if a grassroots candidate is not chosen for his party.
The by-election is being held following the death of Carl Sargeant.
Bernie Attridge said he does not want to stand but told BBC Wales that will "depend on who the Welsh Labour candidate is".
The poll is due to take place on 6 February next year.
Mr Attridge has demanded the resignation of Carwyn Jones over how he handled allegations against Mr Sargeant, who the first minister sacked from the Welsh Government cabinet after learning of allegations about the AM's conduct.
Meanwhile Labour has said allegations of inappropriate behaviour by the former Welsh Labour minister towards women will not be investigated by the party.
"To be perfectly honest there's no appetite whatsoever in Alyn and Deeside [for the by-election] - there's just lots of anger," the deputy leader of Flintshire, who was a close friend of Mr Sargeant, said.
"But for myself I've made it clear that I have no intention of standing."
But he said that was "caveated... depending on who the Welsh Labour candidate is".
"I've seen it before in Alyn and Deeside, when people have been parachuted in," he said.
"If the person isn't chosen as a grassroots member of Alyn and Deeside to stand for that seat, then I will be resigning from the Labour party and standing as an independent."
The Welsh Government has ordered an inquiry into how Carwyn Jones handled the allegations against Carl Sargeant.
Mr Jones has said he could not have done anything differently.
An inquest into Mr Sargeant's death gave a provisional cause of death as hanging.