Carwyn Jones 'did not give an inch' on Carl Sargeant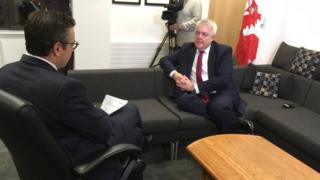 I genuinely did not know what to expect en route to the office of Carwyn Jones for his first full interview since the death of Carl Sargeant.
Part of me was ready to have many questions batted away on the grounds that a number of inquiries have already been ordered.
But instead he was more than willing to engage in a number of sensitive areas.
In fact, there was a strong sense that he was off-loading after staying silent for a few weeks for fear of offending the Sargeant family ahead of the funeral last week.
From a personal perspective, it is clear this has been an intensely bruising experience for the First Minister and his family.
Grey areas
But when it came to the way Carl Sargeant was sacked, he did not give an inch.
The First Minister believes he could not have done it any other way.
In fact he claims that if he did things differently he would have risked the accusation of showing favour to a friend and ignoring the allegations of misconduct made against Carl Sargeant.
In his own mind, it would appear there are no grey areas here and we are in the territory of black and white decision-making.
You could argue that with three inquiries about to get underway there is no other way of approaching the matter, and with the default setting of a lawyer, he will be more than aware of that.
Sacking
The other explanation is that the First Minister genuinely believes it, and will argue the case strongly in the coming months. Or maybe it's both.
There are a number of key elements but one of the main accusations against Carwyn Jones is that he ignored principles of natural justice by sacking Carl Sargeant from the government before an inquiry had been concluded.
Another connected complaint is that Carl Sargeant was not given the full details of the claims against him.
On the first point, the First Minister says if he had been exonerated by the investigation then there would not have been any obstacles to him returning to the government.
And on the second, although he says Carl Sargeant did not recognise the allegations that had been put to him, he would in time have been given more details as part of a process which obviously never reached its conclusion.
Noisy
And then what are we to make of this noisy stand-off between Carwyn Jones and the former minister Leighton Andrews over the allegations of bullying within the Welsh Government in 2014?
It was quite an achievement by Mr Andrews in First Minister's Questions this week to appear to orchestrate a remote grilling of Carwyn Jones with opposition parties asking the questions.
There are flat denials on both sides here and unless new material comes to light then presumably some of this will form part of the inquiry into whether the First Minister misled AMs when he spoke about the behind-closed-doors activity within the Welsh Government four years ago.
There are plenty of unknowns here but we do now at least know how the First Minister is going to approach some of them.