'Irresponsible' to not consider more assembly members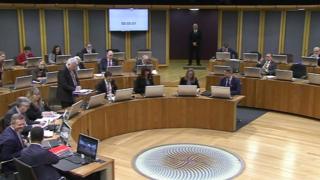 It would be "irresponsible" not to consider expanding the Welsh Assembly to deal with an increased workload, its presiding officer has said.
Elin Jones was speaking to BBC Wales days before a report is expected to back raising the number of AMs from 60.
She told the BBC's Sunday Politics Wales programme the assembly was now making laws and gaining tax powers.
It was "very different" from the institution created in 1999 when "many called us a talking shop", she said.
But Plaid AM, finance committee chairman, Simon Thomas, said the Assembly Commission, in charge of the assembly's day-to-day running, should "meet the challenge" of cutting spending as other public bodies had done.
A report by an expert panel, to be released on Tuesday, has been examining the case for more AMs, whether the way they are elected should change and whether to reduce the voting age from 18 to 16.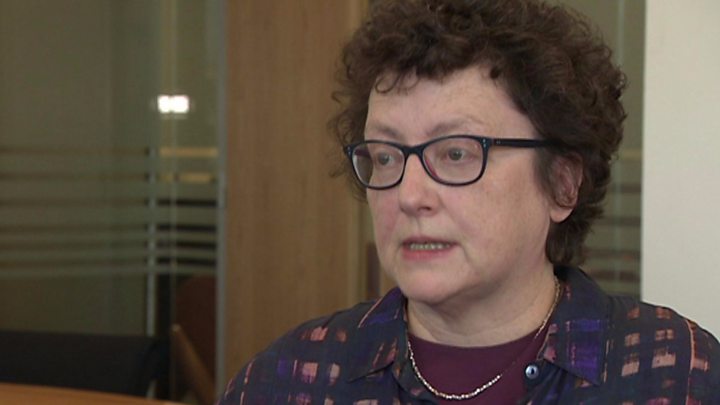 Referring to her election to the first assembly 18 years ago, Plaid's Ceredigion AM Ms Jones said: "At that point we were an assembly, many called us a talking shop, that's possibly what we were.
"We were responsible for some subordinate legislation and much discussion but not much legislation and action and delivering for the people of Wales.
"We're a very different assembly now and we're likely to be even more different in the future as Brexit progresses."
More powers are due to flow to Cardiff Bay, as they return to the UK as part of the process of leaving the EU.
"We pass primary legislation here that affects the daily lives of the people of Wales, we're about to take on taxation powers as well," Ms Jones said.
"This is a very different place to that assembly that was first voted for in 1999, the pressures on assembly members are significant.
"That's not to say that the rest of the people of Wales don't have pressures as well, but to do proper scrutiny to do proper work and pass proper legislation in this place I want to make sure that we have the capacity to do that and I think we have to address those issues.
"And if we don't we're irresponsible, and I'm certainly irresponsible as the presiding officer, in not actually having that discussion."
However, Mr Thomas questioned an expansion in the finances of the Assembly Commission that he said made it "isolated" from austerity, after securing a real-terms budget increase to its budget for the next financial year.
The decision - which was accepted without objection in the Senedd chamber - has angered council leaders facing funding cuts.
Asked if he understood people concerns, Mr Thomas said: "I do absolutely, and to a certain extent I accept them.
"I think the assembly has been isolated to a certain extent from austerity because of the way the budgets are done."
"We really appreciate that there's been a high quality investment in services and support staff for assembly members but we also think that has taken place in an era of austerity where all public services are being challenged," he added.
"We think the Assembly Commission has to meet that challenge."
'One rule'
The finance committee has requested the assembly's staffing numbers be frozen for 2018-19 to allow a review to take place.
The commission has said the extra funding is needed to prepare for Brexit and further devolution and Ms Jones, who leads the commission, said staffing had risen to support AMs as their responsibilities had increased.
But Conservative MP for Monmouth David Davies said: "Local authorities are taking on extra responsibilities and extra obligations and yet they're being expected to take cuts, so I don't see why there's one rule for the Welsh assembly and one rule for local authorities."
Sunday Politics Wales is on BBC One Wales at 11:00 GMT on Sunday 10 December.