Chain stores face business rate relief limit in Wales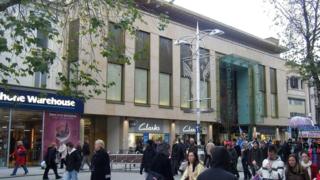 Chain stores will face new limits on how much business rate relief they can claim in Wales from next April.
Companies will only be eligible to claim relief on a maximum of two properties in each council area.
The new limit is included plans for a permanent small business rate relief system in 2018.
Finance Secretary Mark Drakeford said it would free up £7m that will go towards providing more generous relief for firms providing childcare.
Large firms are able to apply for business rate relief because the concession is based on the rateable value of the property, rather than anything relating to the company itself.
The Welsh Government's changes have been broadly welcomed by the Federation of Small Businesses (FSB).
However, the FSB has expressed concern that officials are going to explore whether tax relief levels could in future be linked with the payment of the living wage.
A spokesman said while the proposal was "interesting" it could create administrative problems.
The Welsh Retail Consortium, which represents shops, said: "Retailers of all sizes pay disproportionate amount in business rates, and therefore, we welcome all possible relief.
"However, reliefs and exemptions are a sticking plaster approach to an outdated system.
"The burden needs to come down for everyone, and business rates requires fundamental reform to make them fit for the 21st Century."