Mind your language! Welsh Assembly rules on acceptable speech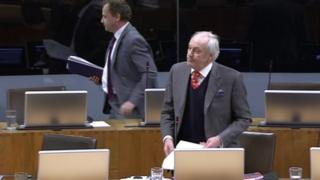 "We were elected to confront the Cardiff Bay consensus and political correctness and will continue to do so."
UKIP Wales leader Neil Hamilton was defiant in the wake of his colleague Gareth Bennett being banned from speaking in the Welsh Assembly until he apologises for referring to transgender people as a "deviation from the norm".
Mr Bennett himself questioned the right of Presiding Officer Elin Jones to gag him, saying his comments were made "in the spirit of robust debate".
Parliamentary privilege of the sort long enjoyed by MPs and members of devolved institutions around the UK gives elected politicians greater leeway to say things that could land them - and the rest of us - in court if they said them outside the debating chamber.
But there's still a red line of unparliamentary language which could land AMs in hot water.
Presiding Officer Elin Jones is the judge of what is acceptable in the course of proceedings in the Senedd chamber.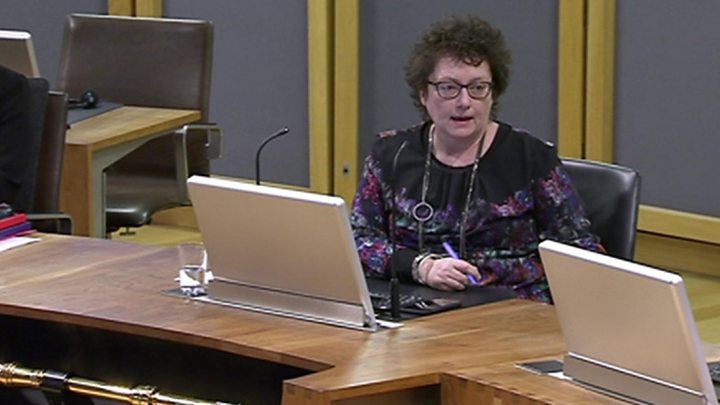 UKIP said it had been told Mr Bennett's comments fell foul of assembly rules under Standing Order 13.9 (v) - "using disorderly, discriminatory or offensive language or language which detracts from the dignity of the Assembly".
And by refusing to apologise or withdraw the remarks, he has been told he has contravened Standing Order 13.9 (vii) in that he "disregards the authority of the chair".
To underline that authority, Standing Order 6.16 states: "The Presiding Officer's determinations as to the interpretation or application of Standing Orders are final."
In most previous cases, assembly members have withdrawn offending remarks at the presiding officer's request.
In March this year, Mr Hamilton himself apologised after AMs heard him say "suicide is an option" while Labour's Eluned Morgan spoke of her sadness at the triggering of Brexit under Article 50.
He had previously been rebuked by Ms Jones for referring to two women AMs as Carwyn Jones's "political concubines" for supporting his re-appointment as first minister.
But in December 2004, Plaid Cymru AM Leanne Wood was expelled from the chamber for the remainder of the day's session for refusing to apologise for referring to the Queen as "Mrs Windsor".
One of the Plaid AMs who left the chamber with Ms Wood was Elin Jones - now the presiding officer who judged Gareth Bennett's comments to be "particularly hateful".
The then presiding officer who requested Ms Wood leave the chamber - Lord Elis-Thomas - found himself in hot water earlier this year when he was heard referring to his former colleagues in Plaid Cymru as "right-wing shits".
On this occasion, his successor-plus-one Elin Jones told him the language had been "unacceptable" but took no further action.