Childcare jobs drive to aid free service commitment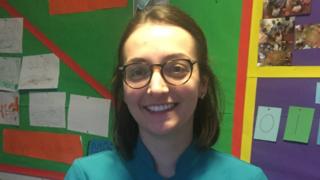 The Welsh government has unveiled a 10-year plan to encourage more people to work in childcare to help deliver its commitment to a free service.
It wants to create better quality jobs in the sector and help it retain staff.
The Government has pledged 30 free hours a week for three and four-year-olds with working parents for 48 weeks of the year.
Experts have warned that money will be needed to expand childcare if lawmakers want to deliver the pledge.
Nurseries will also benefit from enhanced Small Business Rate Relief for the childcare sector from April 2018.
The level of relief will rise from its current maximum of £12,000 to £20,500 in April 2018.
Purnima Tanuku OBE, chief executive of National Day Nurseries Association (NDNA), welcomed the plan in a statement: "The biggest concern over the Childcare Offer for Wales remains capacity which hopefully this plan will build, along with quality childcare and early years education as well as true parental choice."
"Our own research shows there is capacity within the private, voluntary and independent (PVI) nursery sector which is untapped, so we would ask that this provision is used to the maximum to avoid duplication We want the existing nursery infrastructure to be strengthened and not threatened by this ten-year plan."
Jennifer Jones, who owns Welsh-language nursery Y Cam Cynta' in Peniel, near Carmarthen told BBC Wales the plan would support families and allow more children to attend nursery in future.
"We're always aware that nursery is expensive for parents so we're trying to keep our fees down but at the same time (we need to) keep our standards high."
She said the plans would also help in recruiting staff and changing the perception of childcare, currently not necessarily seen as a long-term career path.
"I always feel we should maybe pay our staff more. The work they do is fantastic every day with the children...so any help we get from the government to keep our fees low means we can support our staff as well with their careers in childcare," said Ms Jones.
Statistics Wales figures released in June showed 43% of parents who had used formal childcare found it difficult to afford and 35% found it difficult to find formal childcare during school holidays.