'The war is over' says minister as he drops the P-bomb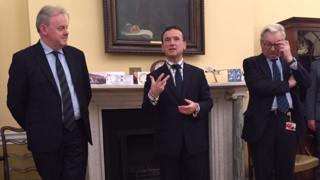 What did he mean by that?
That's the question the Welsh chattering classes have been asking since Lord Elis-Thomas suggested he would be promoting Wales "as a principality within the United Kingdom" and that "anybody who doesn't like this word, I will see you at the end".
Was the minister for culture, tourism (and also sport) joking? Was he making mischief? Was his tongue firmly in his cheek? Was he just trying to wind up his old mates in Plaid Cymru?
Up to a point. Lord Elis-Thomas has always been slightly off-message (from a Plaid Cymru perspective) when it comes to both the P-word and the monarchy. He was once late for his leader's speech at a Plaid Cymru conference because he had to meet the Queen and on Monday he suggested her son was as enthusiastic as he was about promoting Wales as a principality.
The minister was speaking at a Wales Office Christmas party, hosted by Welsh Secretary Alun Cairns at Gwydyr House in Westminster. (Although Mr Cairns later stressed that "these are receptions to recognise important cultural organisations rather than a party".)
There were about 50 people in the room to hear the speech, including a choir, MPs and peers from all parties, Defence Secretary Gavin Williamson, a few pesky journalists and representatives from "important cultural organisations".
So what can we expect? The 'year of the sea' to be followed by the 'year of the prince'? Prince Charles fronting a Visit Wales TV campaign?
'A new experience'
Lord Elis-Thomas has always had his own distinctive take on the P-word. Back in 2012, he told the Western Mail: "But the issue I have is that a lot of people who call themselves Welsh nationalists have forgotten - the principality of Wales is not a creation of the monarchy, of the Crown of England, it is a creation in fact of the Lords of Nant Conwy."
And in 2013, he used a lecture at Westminster to state: "Revisionist nationalists always seem to imagine Wales as always having been a people's republic… But the principality of Wales is not a creation of Norman military ascendancy. It is the creation of Welsh leaders themselves and that project was always federal in nature."
On Monday, Lord Elis-Thomas of Nant Conwy also used his speech to announce a Christmas truce between the Welsh and UK governments.
"The war is over," he declared, hinting at a more permanent ceasefire.
Lord Elis-Thomas told his audience that ministerial life was still "a new experience" for him - "it is getting on for a month" during which he had visited Llandudno four times.
"There has been this conflict between Cardiff Bay and Westminster. I can promise you now as far as I am concerned.....the war is over."
Well, it is the season of goodwill, although there's little sign that this is Welsh Government policy any more than his tourism marketing policy, roundly dismissed by his own government.