MP's request to see John Major on job losses 'tiresome'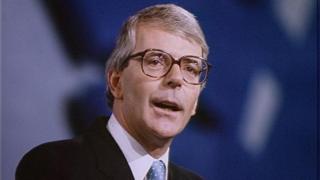 A Downing Street aide dismissed as "tiresome" a Welsh MP's request to discuss south Wales' job losses with Prime Minister John Major in 1991.
The comment, by Mr Major's private secretary, Dominic Morris, is revealed in newly-released cabinet papers.
Merthyr Tydfil and Rhymney Labour MP Ted Rowlands wanted the June meeting after hundreds of Hoover and Thorn EMI jobs were lost in his constituency.
"I fear you will have to give him five minutes," Mr Morris wrote.
Mr Morris told the prime minister Mr Rowlands had not been satisfied with a meeting with the Welsh secretary and was "pressing" to see the prime minister.
He wrote: "It is tiresome, but unless you wish to abandon policy (which I understand both Mrs Thatcher and Lord Callaghan followed), of seeing MPs with significant closures, I fear you will have to give him five minutes."
In a separate note ahead of the meeting, Mr Morris added: "I think all you need to do is listen sympathetically and then take him through the action highlighted."
Mr Major had been briefed for the meeting by Mr Welsh Secretary David Hunt, who had highlighted his own policies to regenerate the south Wales valleys.
"Now that the Valleys Programme has been running for three years, I am looking at the lessons to be learnt for the future and how I see urban policy developing in the Valleys and in Wales generally.
"The inclusion of a wide range of activities has been extremely valuable and I am convinced of the importance of continuing this approach."
The MP, now Lord Rowlands, told BBC Wales he found John Major "a good guy to deal with" but "there would have been a few expletives" if he had realised what his aide Mr Morris was saying.