Carl Sargeant: Tory and Lib Dem by-election candidates named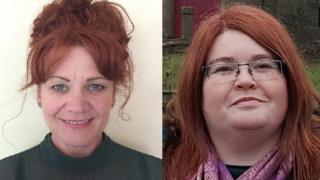 The Conservatives and the Liberal Democrats have chosen their candidates for the February by-election caused by the death of sacked Welsh Labour minister Carl Sargeant.
Former nurse Sarah Atherton will stand for the Tories in Alyn and Deeside while community councillor Donna Lalek is the Lib Dem choice.
Mr Sargeant's son Jack is on a shortlist of three for Labour.
UKIP has said it will not contest the seat if he is selected.
Plaid Cymru has yet to confirm its candidate for the poll, to be held on Tuesday 6 February.
Carl Sargeant was found dead in November, four days after being sacked as communities secretary by First Minister Carwyn Jones amid allegations about inappropriate conduct towards a number of women.
Labour has held the Alyn and Deeside seat since the Welsh Assembly was created in 1999, with Mr Sargeant serving as the local AM for 14 years.
At the last election in 2016, Labour had a majority of 5,364 over the Conservatives in second place with UKIP third.