Blue passport announcement divides opinion in Wales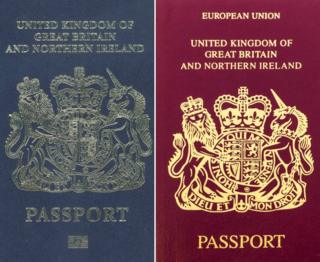 News that the UK will re-introduce blue passports after Brexit has prompted scorn from opposition parties in Wales.
Since 1988, the UK has had burgundy passports like most EU nations although it was never compelled to follow suit.
Prime Minister Theresa May said the return to blue would be "an expression of our independence and sovereignty".
Labour MP Tonia Antoniazzi claimed it would be a "huge waste" of money while Plaid Cymru AM Simon Thomas called it "nostalgic dross".
Conservative ministers have said they are delighted to bring back the "iconic" blue and gold passport design which came into use in 1921 and was phased out by 2003.
The new document will be issued to those renewing or applying for a passport from October 2019.
Mrs May said on Twitter: "The UK passport is an expression of our independence and sovereignty - symbolising our citizenship of a proud, great nation. That's why we have announced that the iconic #bluepassport will return after we leave the European Union in 2019."
The news - revealed by The Sun newspaper on Friday - was also welcomed by UKIP, whose Welsh MEP Nathan Gill said it was a "stunning Brexit victory" for the newspaper and for his former party leader Nigel Farage.
He said Mr Farage had "spent the entire Referendum Campaign brandishing his beaten up EU passport demanding a British one".
Monmouth Conservative MP David Davies said it was "great ... fantastic news".
"I'm absolutely delighted with the return of the blue passports," he told BBC Wales.
"It harks back to a time when Britain was independent of the EU - I think it's a harbinger of good times to come."
However, Welsh Labour and Plaid Cymru politicians questioned the UK government's priorities in light of fears that Brexit could affect people's freedom of movement.
Gower Labour MP Tonia Antoniazzi tweeted: "Another huge waste of the UK's money on things we really don't need - that's Tory Austerity for you".
Labour AM and Welsh Government minister Rebecca Evans replied to her colleague, saying: "Lush. We can stroke and admire them for endless hours in those lovely long passport control queues."
Welsh Labour's Counsel General Jeremy Miles also made light of the situation, saying: "Pity those poor EU passengers burdened with their burgundy passports, as they speed past us in the border control queue."
Plaid Cymru AM Simon Thomas commented: "I'm 54 next week but have only had a EU passport. What the hell is this nostalgic dross."
Welsh Labour AM Lee Waters said: "Few under 40 remember blue passport. This move symbolises the nostalgia driven agenda of drivel from the #Brexit campaign."
His party colleague, local government minister Alun Davies, claimed the passport would be made in Germany - "the real reflection of the Brexit fraud".
Another Plaid Cymru AM, Rhun ap Iorwerth, pushed the debate further, saying he wanted to have a Welsh passport.
"My national identity is Welsh - whether that UK passport is purple or blue makes not a bit of difference to me," he told the Dot Davies programme on BBC Radio Wales.
"What's important to me is what kind of future we can offer the people of Wales - our young people who are facing an uncertain future this Christmas.
"People talking about blue passports doesn't give them jobs, doesn't put food on the table."