Carwyn Jones Christmas message: 2017 was 'hugely difficult'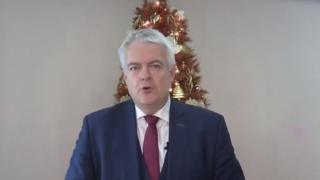 First Minister Carwyn Jones has issued his Christmas message at the end of a "hugely difficult year".
High points included devolution's 20th anniversary, the Champions League final in Cardiff, and record employment.
But he also acknowledged the deaths of former cabinet minister Carl Sargeant and ex-first minister Rhodri Morgan.
"We've lost good friends who are missed each and every day by us, by their families, by all who knew them and by the nation," Mr Jones said.
"My thoughts will be with all those who are without loved ones this Christmas," he added.
An inquiry led by a QC will examine the circumstances leading up to the death of Mr Sargeant, who was AM for Alyn and Deeside.
He was found dead at home in November, four days after being sacked by Mr Jones over allegations of improper conduct towards women.
A separate inquiry is looking at whether Mr Jones misled AMs in answering questions about claims of bullying in the Welsh Government dating back to 2014.
Mr Jones said in his message 2017 had been "an eventful, unpredictable and - at times - hugely difficult year".
"This year marked the 20th anniversary of devolution and provided us with the opportunity to look back on our biggest achievements - an economy transformed, schools and colleges rebuilt and leading the way on organ donation and recycling," the first minister said.
Wales was "a small, confident nation, now with a big voice of our own", he added.
"This summer, Cardiff proudly hosted the greatest sporting event of the year, the Champions League Final. The eyes of the world were on Wales - and, again, we delivered.
"However, celebrations were cut short as the tragic events of the London Bridge attack unfolded and the country had to face the horrors of yet more innocent lives lost in another appalling and senseless act."
Mr Jones urged people to "make 2018 a year that unites us, and go into the new year with a message of peace and reconciliation, so we can pull together and work towards building a better Wales for everyone".