Labour select Carl Sargeant's son for by-election fight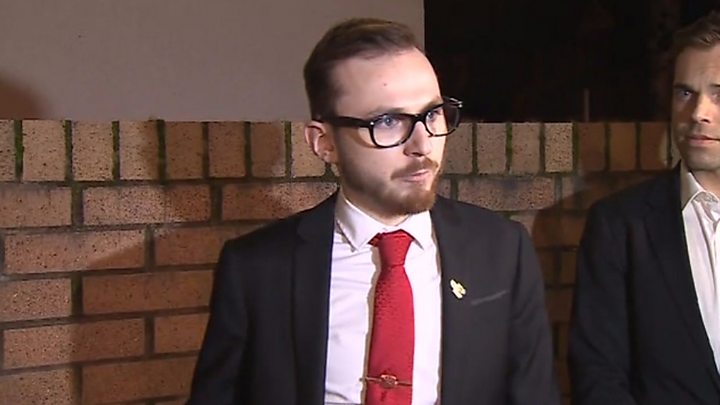 The son of late Labour assembly member Carl Sargeant has been selected by party members to fight the by-election caused by his father's death.
Jack Sargeant, 23, was chosen by party members in Alyn and Deeside ahead of the by-election on 6 February.
He beat Flintshire councillor Carolyn Thomas and Saltney town councillor Hannah Jones.
Carl Sargeant, who had represented Alyn and Deeside in the Assembly since 2003, was found dead in November.
Jack Sargeant said he would be "seeking justice" for his father and "getting to the truth about the chain of events that led to his premature death".
His father was found dead at his home in Connah's Quay days after losing his cabinet position amid allegations around his personal conduct.
He had vowed to clear his name, and the first minister has ordered an independent inquiry to consider the circumstances around his sacking.
Jack Sargeant said: "I am humbled and honoured to have been selected as Labour's candidate.
"I would like to thank local Labour Party members for the faith they have placed in me.
"I will be standing on a platform of being a powerful voice for local people - in the proud tradition of my father."
He said he would listen to local concerns about the economy, health and education and promised to "champion north Wales interests on all these issues".
"Whilst friends from the wider Labour family across Britain will be welcome to visit and campaign alongside us to secure victory, I want to emphasise - this will be a locally run campaign," he added.
"I take nothing for granted in this by-election."
Plaid Cymru announced that it had selected Carrie Harper on Wednesday.
The Conservatives had selected former nurse Sarah Atherton as their candidate for the by-election and community councillor Donna Lalek will stand on behalf of the Liberal Democrats.
UKIP previously said they would only stand if Jack Sargeant failed to win the Labour nomination.
Analysis by Nick Servini, BBC Wales political editor
This comes as no surprise but it does confirm that a by-election already due to take place under extraordinary circumstances is likely to be a highly charged affair with the son of the late Carl Sargeant looking to keep the memory of his father alive.
Opposition parties will have to deal with the emotional weight that will inevitably surround his campaign and the undoubted popularity within Labour ranks of his late father, particularly in and around his hometown, and power base of Connah's Quay.
Jack Sargeant had made an effort to win the support of Labour members not just through his family connection but also with a focus on local jobs and skills.
This will presumably be a central part of his campaign, as will thoughts about his father, no matter how difficult that becomes for the leadership of a Welsh Labour party already facing deep divisions within its own ranks about the sacking of Carl Sargeant.