AM Finch-Saunders criticises hospital over father's care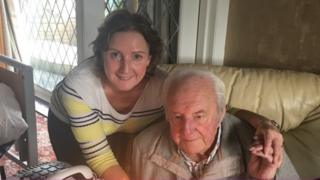 Tory AM Janet Finch-Saunders has told an inquest her father Jack Finch was "badly let down" by the care he received before his death in hospital.
Mr Finch was 91 when he died at Ysbyty Glan Clwyd last April.
The AM said his knee was operated on despite her concerns he was not well enough.
Coroner John Gittins recorded a conclusion of accidental death - but said the care shown to Mr Finch had been "exemplary".
The cause of death was recorded as acute heart failure, and Mr Gittins said the operation was "too much for this gentleman to cope with ultimately".
Doctors giving evidence at the inquest defended the care given to Mr Finch, after Ms Finch-Saunders accused Betsi Cadwaladr University Health Board of "untruths".
She told the coroner how her father had suffered problems with his knees and had had four joint replacements.
In the 18 months before his death, he had suffered various problems including developing pressure sores while being looked after by carers, and an infection.
He developed sepsis and was admitted to hospital.
The AM's main criticisms centred on her father's final stay in hospital in spring 2017.
Mr Finch was admitted because he was "poorly," but a decision was later made to perform an operation on his knee because it was feared he would continue to suffer sepsis episodes without it.
She said she expressed concerns her father was not well enough for the operation because he had a chest infection.
The operation went ahead, and was described as a success.
Mrs Finch-Saunders was also told her father's foot had been "straightened," but she said no consent was given for that - she had been under the impression that would be done later as part of a series of operations.
Her father's condition deteriorated rapidly shortly after the surgery, and he later died.
'Too much for him'
She told the inquest: "To this day I think it was just too much for him, the operation."
Mrs Finch-Saunders also described how, during one stay in hospital, her father was unable to be released because "there was no care package available".
Crying, she said: "He'd been a hard worker. He'd come through some scrapes over the years but he was badly let down, badly let down."
She said there was a "fundamental failure of the Welsh government," and "lessons are not being learned".
When questioned by the coroner John Gittins, she claimed there was a "lack of resources" at the hospital. Ms Finch-Saunders said lives were being put at risk because of the issues she had raised, and that she thought he had received a different level of care because of his age.
'Good medical care'
However, Gerallt Owen, a consultant, told the inquest that Mr Finch had received "good medical care" and said he did not feel he had had an active chest infection.
Consultant anaesthetist Emma Hoskin told the inquest Mr Finch had received a high level of care and staff had communicated regularly with the family.
"I don't think Mr Finch's age came in to it at all," she said.
The inquest heard Mr Finch had heart problems, kidney disease and a list of other conditions.
Mr Gittins said he would not be issuing a prevention of future deaths report, but agreed communication between health bodies and families was sometimes "woeful".
He said there may be a perception that not issuing a report was a victory for the health board, and issuing one was a victory for the families.
That is a "load of tosh," he said.
After the inquest Gary Doherty, chief executive at Betsi Cadwaladr University Health Board, said: "Once again we would like to offer our sympathies to Mr Finch's family."