Carwyn Jones welcomes Jack Sargeant candidacy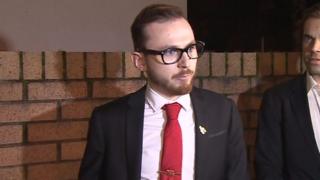 First Minister Carwyn Jones has welcomed the selection of Jack Sargeant to fight the Alyn and Deeside seat for Labour.
A by-election is taking place in the constituency on 6 February following the death of Mr Sargeant's father, Carl, who was the area's AM.
Mr Jones said Jack Sargeant, 23, had shown "incredible commitment".
Plaid Cymru, the Conservatives and the Liberal Democrats have also selected candidates for the election.
UKIP have said they would only stand if Jack Sargeant failed to win the Labour nomination.
Carl Sargeant was found dead at his home in Connah's Quay days after Mr Jones had sacked him from his cabinet job amid allegations around his personal conduct.
He had vowed to clear his name, and the first minister has ordered an independent inquiry to consider the circumstances around his sacking.
In his first comments about the selection, the first minister told BBC Radio's Good Morning Wales programme: "He's a young man, it's a big step for him to take. I want to pay tribute to what he's done.
"It's not an easy decision for him, I'm sure, but it shows the commitment that he has to his principles and politics."
Plaid Cymru has selected Carrie Harper as its candidate for the by-election, the Conservatives have selected former nurse Sarah Atherton and community councillor Donna Lalek will stand on behalf of the Liberal Democrats.