UKIP will not let Mandy Jones sit with assembly group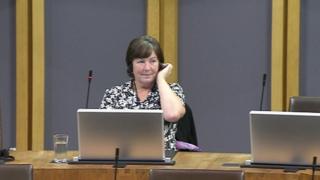 Newly-sworn in North Wales AM Mandy Jones will not be sitting with the UKIP group due to a row over her choice of staff, the party has announced.
She replaced Nathan Gill, who stepped down in December to devote his energies to the European Parliament.
The UKIP group said it would be "impossible" to work with Ms Jones as some of her staff had "campaigned actively for other parties".
Ms Jones said: "My politics have not changed and I remain a member of UKIP."
She succeeded Mr Gill - a former UKIP Wales leader who quit its assembly group following a rift with his successor Neil Hamilton - as she had been the next candidate on UKIP's regional list for North Wales at the 2016 election.
Ms Jones was sworn in at the assembly's offices in Colwyn Bay on 29 December and attended the first plenary session of the new year at the Senedd in Cardiff Bay on Tuesday afternoon.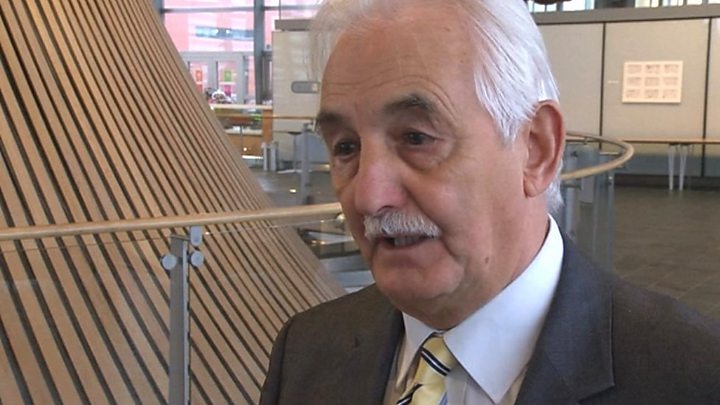 A UKIP statement issued on Tuesday morning said: "After discussions with Mandy Jones, AM for North Wales, we have collectively and unanimously decided that she will not be joining the UKIP Group in the National Assembly.
"Despite being asked by all five members of the Group not to do so, she has chosen to employ individuals in her office who are either members of, or have recently campaigned actively for, other parties, or both.
"They have been personally and publicly abusive to some of the UKIP AMs and sought deliberately to undermine UKIP Wales.
"Their behaviour and attitude makes it impossible to work with Mandy Jones on a basis of confidence and trust."
The statement added: "The UKIP Wales Group are united in this decision.
"We shall continue speaking against the cosy Cardiff Bay political consensus through our dedicated team of five Assembly Members."
Ms Jones said: "I was chosen by the UKIP membership as a list candidate and I am proud to take my seat in the assembly to represent the North Wales region in accordance with the instructions of the electorate in May 2016.
"My politics have not changed and I remain a member of UKIP. I will now seek to be a voice for the region without further distraction."
UKIP won seven seats at the 2016 election, but also saw Mark Reckless leave the group to sit with the Conservatives.
Analysis by Vaughan Roderick, BBC Welsh Affairs Editor
For a journalist, UKIP sometimes seems like the gift that keeps on giving.
On the one hand, the party can claim - justifiably - that it's achieved its main aim with the vote for Brexit. On the other hand, its internal machinations and personality clashes are seemingly endless.
Party members may have been hoping that Nathan Gill's departure from the assembly would bring about at least a semblance of unity in Cardiff Bay.
But the decision by his successor Mandy Jones to re-appoint his staff has torpedoed that prospect.
UKIP's success in the 2016 assembly election when they returned seven members is beginning to look like the party's high water mark in Wales. They're now left with a group of five, one of whom - Gareth Bennett - is banned from speaking in the Senedd.
The party's decision not to field a candidate in the Alyn and Deeside by-election is being presented as a mark of respect but, given that the seat was the party's top target two years ago, it's also a sign of how far the purple tide has receded.