Brexit: Mark Drakeford promises stronger Irish ties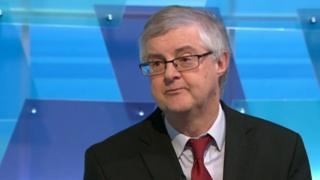 Wales will strengthen its ties with the Irish Republic after Brexit, Wales' finance secretary has pledged.
Mark Drakeford is joining a discussion panel at an economic conference in Killarney on Saturday, that includes DUP leader Arlene Foster and Fianna Fáil leader Micheál Martin.
Mr Drakeford said Welsh ministers were "committed to deepening our engagement outside the EU" with Ireland.
He said the "excellent and creative partnerships" must be sustained.
The panel will consider the implications of the UK leaving the EU for business, politics, the law and the consequences for people's daily life.
Speaking ahead of the conference, the finance secretary said: "We highly value our relationship with Ireland and are committed to deepening our engagement outside the EU given the close bond, common values, trade and cultural links between the two nations.
"As an outward-facing nation, we want to maintain and build on our international networks through continued participation in co-operation programmes.
"We place great value on the European Territorial Co-operation [ETC] programmes, including our cross-border programme with our nearest neighbours."
He said such schemes offer ways "to find real solutions to shared challenges which transcend borders".