Plaid Cymru denies Neil McEvoy investigation dropped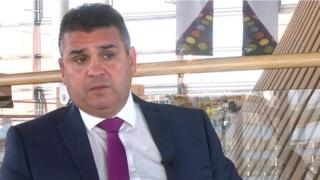 Plaid Cymru has denied that it has dropped a party inquiry against Neil McEvoy, despite claims from the assembly member that it has.
The independent AM said the party was no longer looking into the complaints about his behaviour.
But a spokesperson for the party disputed that, saying an investigation was "ongoing".
Mr McEvoy said he is planning to appeal his suspension from the party group in March.
BBC Wales reported in December that Plaid Cymru has passed on complaints made against AM Neil McEvoy to the assembly standards commissioner.
Some of those who made complaints have said they are unhappy the party did not ask them before making the decision.
Last March an internal inquiry was announced by Plaid Cymru after accusations were made against Mr McEvoy on social media.
In a statement issued on Tuesday, Mr McEvoy said: "The complaints the party had, have now been transferred to the Standards Commissioner and they have not made me aware of the existence of any other complaints, after me formally asking them and serving a Subject Assess Request.
"I always maintained that there was no inquiry against me by the party, and it is clear that if there was, then it is now closed."
Mr McEvoy is currently suspended by the Plaid Cymru group after he spoke out against the party's support for axing the right-to-buy.
Six months later Plaid's disciplinary panel met to discuss whether there was any basis to further investigate three complaints submitted.