New broadband rollout plan for Wales to boost connections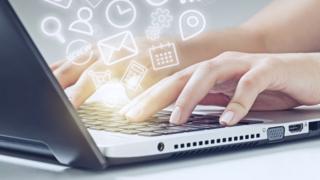 People promised superfast broadband last year may get "some comfort" in a new scheme, a Welsh minister has said.
Julie James said she would announce a new rollout programme next week targeting 98,000 premises not connected under the Superfast Cymru project.
Tory AM Angela Burns said contractors Openreach failed to complete work it promised by the December deadline.
Meanwhile Parliament research has shown Wales had 21 of the 50 UK council wards with the slowest broadband speeds.
Ofcom data analysed by the House of Commons library found that communities in Wales had an average broadband speed of 35.4Mbps compared to a UK average of 44.6Mbps.
One ward in Denbighshire - Llanbedr Dyffryn Clwyd/Llangynhafal - had the highest percentage of lines - 94% - unable to receive "decent" download speeds of 10Mbps, compared to 3% of the UK as a whole.
Ceredigion and Montgomeryshire were among the ten constituencies with the lowest access to 10Mbps broadband.
In 2013, Openreach was hired to extend the reach of superfast broadband (30Mbps or more) to 96% of premises in Wales under a contract with funding from Europe and the Welsh and UK governments.
Shortly before the project ended in December, the company said more than 700,000 properties had been connected since it began.
Taking questions in the Senedd on Wednesday, Ms James told AMs: "The Superfast Cymru scheme has been hugely successful for those people who have received superfast [broadband] from it.
"They are an enormous number of people across Wales, and it's in the nature of the beast that we're not inundated by letters from people who are grateful to have received it."
Ms James, whose duties as leader of the house include responsibility for digital infrastructure, said it was likely the 96% target had been reached.
But she accepted that the end of the rollout had still left many people "in a very frustrating position".
"I intend to carry out a procurement exercise shortly, with a view to the new project starting in spring this year," she said.
Previous consultation documents have said that £80m will be available for the new scheme, which equates to around £816 per property.
Conservative AM Angela Burns was unhappy that several communities in her Carmarthen West and South Pembrokeshire constituency had been promised connections under the Superfast Cymru project but did not get them.
She insisted that Openreach should not be paid for work the company did not complete.
"They cannot make promises to people and then just basically say 'tough luck, it's finished, too bad'," Ms Burns said.
"These people have lives to live, businesses to run, kids to educate. Broadband - superfast - is today's universal provision we all need."
In reply, Ms James said the Welsh Government was "very mindful" of the people who had been promised superfast broadband but had yet to get it for "various complex engineering reasons".
"Our primary intention is to connect people to broadband," she said.
"It's not a financial exercise - it's an exercise in getting the infrastructure out there."
Ms James said she hoped the announcements to be made next week "may bring some comfort" to communities which were not yet connected.