Does Labour want to reopen merger divisions with councils?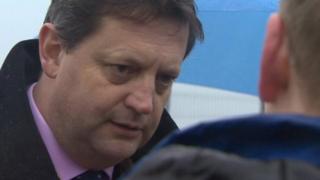 Alun Davies has given us an early glimpse of how he wants to approach the subject of council reform.
He suggested in an interview on the weekend that change is in the air when he said no-one seriously argues for the 22 to remain.
He referenced democratic accountability a few times which indicates that the proposed model of regional committees in key areas like planning and social services is problematic for him.
This was a long way from setting out specific proposals but it was also a long way from the kind of noises council leaders had got used to hearing from Mark Drakeford, the former local government secretary, who had scrapped the hugely controversial plans to reduce the 22 to single figures via a series of mergers.
Janet Finch-Saunders, who speaks for the Welsh Conservatives on local government, latched on to the interview when she suggested it would "reopen old wounds."
We will have to see what kind of fully-formed proposals emerge in the coming weeks but she may have a point.
So far, senior figures in local government are largely keeping their powder dry.
The last time proved divisive for Welsh Labour, the difference now is a new generation of Labour council leaders in charge.
They do not have the baggage of long-held antagonism towards devolution, but with the likes of Debbie Wilcox at the helm of the Welsh Local Government Association, they are not afraid to speak their mind either.
There will be many who agree that 22 is too many. The follow-up question is whether that means encouraging voluntary mergers among the "tiddlers" (as one senior figure in local government explained to me) or something far more radical.
Bold
The last time this was attempted, the Welsh Government could not get a deal with opposition parties, on paper at least it would now have the numbers to force something through with Kirsty Williams and Dafydd Elis-Thomas.
The question is with divisions in Labour ranks after the death of Carl Sargeant and on how to choose a successor to Carwyn Jones, is there the appetite to open up another front with council leaders?
Having said that, at a time when the Welsh Government needs to show it is doing, rather than reacting, then it would make a bold statement on what is considered by some as unfinished business.