More to be done on equality in politics, says Elin Jones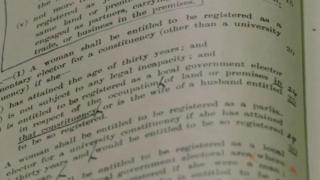 Much is still to be done to ensure equality of men and women in politics, the assembly's presiding officer Elin Jones has said.
Tuesday marks 100 years since the right to vote was extended to women for the first time.
Ms Jones said more needed to be done to attract women to politics - and that it could not take another 100 years to put that right.
At the 2016 vote, 42% of AMs elected were women - fewer than in 2003.
It had been 50/50 at the time and there have been calls for gender quotas for assembly elections.
The Representation of the People Act 1918 granted women aged over 30 who owned, or were married to someone who owned property the right to vote for the first time.
The first female MP took her seat in 1919 and it was not until 1928 that women gained equal voting rights with men.
Ms Jones said it was probably "still in question" whether enough had been achieved in equality between men and women in politics, but added there was "nowhere near" enough among councillors and MPs.
"There is obviously much to do still in making sure that enough women are attracted to become representatives of the people, to put their name forward for elected public office," she added.
"We need to do better than take 100 years to put that right."
In the 2017 general election, 11 women - 27% - were elected to be MPs in Wales, the highest ever.
But Wales still lags behind the UK as the whole, with 32% of Westminster MPs being women.
Welsh Government Leader of the House, Julie James, said: "We need to maintain momentum and increase the number of women in decision-making roles, and continue to challenge inequality and unfair discrimination."
Plaid Cymru leader Leanne Wood said she wanted to see "more young, ethnic minority, lesbian, bi, trans and working class women" at the forefront of her party.
Welsh Conservative leader Andrew RT Davies said his party was proud of electing two female leaders, adding the party wanted to "tackle burning injustices, wherever they exist, so people can achieve their true potential, whatever their gender".
A UKIP Wales spokesman paid tribute to the "great costs experienced by many suffragettes, and in the case of activists like Emily Davison, the loss of life".