Theresa May's Wales-England A&E comparison 'not valid'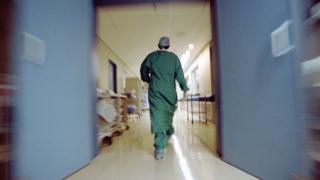 The UK Statistics Authority has backed First Minister Carwyn Jones's criticism of Prime Minister Theresa May's use of accident and emergency data.
Mr Jones said a comparison of those waiting 12 hours or more at A&E in Wales and England was unfair as the figures are measured in different ways.
Authority chairman Sir David Norgrove said the comparison was "not valid".
A spokesman for Mrs May accepted the assessment but insisted A&E performance in England was better than Wales.
Sir David said: "The figure used for England refers to the accident and emergency wait time from the decision to admit to admission into another part of the health service.
"The figure used for Wales represents the entire time patients wait from arriving to leaving accident and emergency services, including the time from decision to admit to actual admission."
When challenged by Labour leader Jeremy Corbyn about the NHS earlier in January, Theresa May said the latest figures showed 497 people waiting more than 12 hours in A&E at hospitals in England compared to 3,741 in Wales.
But that prompted a letter from Carwyn Jones, who said the English figures would "not include any of the time which the patient has spent in A&E prior to the decision to admit being taken".
He said: "The selective misuse of statistics like this does not allow for a fair debate on the NHS."
In reply, Sir David said: "You are right to say that the comparison is not valid.
"Waiting time comparisons between UK countries are difficult, for a variety of reasons, including differences in data collection and in health service structure, the use of walk-in centres for example."
He did, however, urge "faster progress" in making data accessible and comparable.
"It is clearly important to be able to compare health and social care service performance across the UK, particularly to learn lessons from different ways of doing things," he said.
A spokesman for the prime minister said: "We would accept the assessment of the UK Stats Authority - but the point she was making, that A&E performed better in England than in Wales, still stands".