We must leave EU customs union, says Welsh Tory leader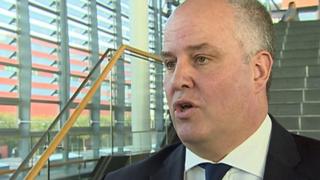 Staying in the EU single market and customs union would "betray every principle" of the Leave campaign, Welsh Tory leader Andrew RT Davies has said.
He said the campaign's "rallying cry" was to take back control "of our money, of our trade, and of our borders".
Mr Davies said both sides of the campaign should now negotiate with Brussels with a "united front".
Welsh ministers and Plaid Cymru have long-called for continued participation in the single market and customs union.
Mr Davies, who campaigned for Brexit, made his comments in an article on the Conservative Home website.
He wrote: "From a UK perspective, to retain membership of the single market and the customs union is to remain a rule-taker, divested of any influence.
"It would see the UK forced to accept free movement, to pay into annual EU budgets, and would preclude the signing of any independent free trade deals.
"No sensible nation would voluntarily enter into such an arrangement.
"And to do so would be to betray each and every principle underpinning the campaign to leave."
His intervention comes as leading members of the UK government's cabinet are set to draw up on Wednesday and Thursday a UK negotiating position on its future relationship with the EU.
Pro-European ex-business minister Anna Soubry has called on Theresa May to "get a spine" and remove 35 "hard ideological Brexiteers" from the Tories.
But Mr Davies said: "It's time to call off the attack dogs, and get on with the job of delivering the 'Spirit of Brexit'.
"I have always believed that the concerns expressed by the Remain voice must be addressed, and the best talent from every political background must be harnessed if we are to take advantage of the opportunities ahead.
"Nonetheless, we need to shake off the collective shackles of a negative 'civil servant mind-set' that this is all too hard too do.
"We need to pool our resources and approach the negotiations with a positive and united front - Remain and Leave alike."
'Building walls'
During Tuesday's session of First Minister's questions in the Welsh Assembly, Carwyn Jones was challenged by Plaid Cymru leader Leanne Wood, following his comments on Monday that he did not believe Wales "should have a veto on trade deals" struck by the UK government.
Mr Jones said: "I do take the view that for any free trade deal to be robust then it has to have buy-in from all the different nations of the UK."
Mr Wood responded: "But asking for consultation is weak. Why don't you go for the strongest option of demanding a veto?"
On the issue of preparing for a potential "no-deal Brexit", the first minister also said: "My argument is not let's see what we can do to mitigate it, let's fight it.
"Let's say to the UK government, a 'hard Brexit', building walls around the UK, turning our backs on our biggest market in Europe, is not acceptable to the people of Wales."