Tory MP Davies reports anti-Brexit protesters to police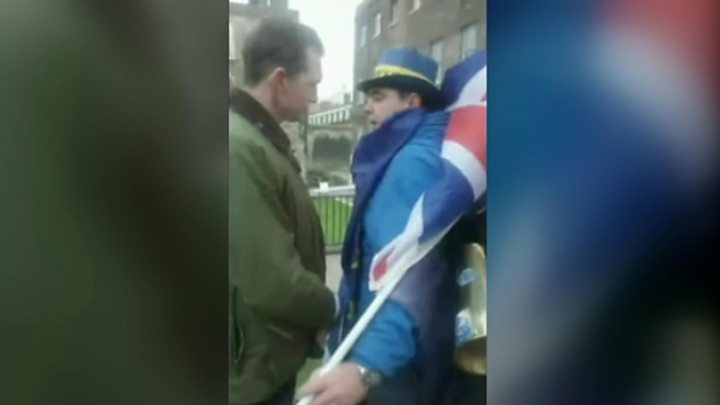 A senior Welsh Conservative MP and anti-Brexit protesters have clashed outside Parliament.
David Davies said campaigners verbally abused and bullied him, waving EU flags in his face.
The Monmouth MP and members of the Stand of Defiance European Movement were involved in the altercation on a green opposite the House of Lords on Monday.
A member of the anti-Brexit group said Mr Davies was "the physical one".
The incident was filmed and posted on the internet.
Mr Davies said: "I was physically threatened and verbally abused by one male who barred my way.
"It is unacceptable bullying and it must stop."
One of the protesters - Steve Bray, from Port Talbot - denied that Mr Davies had been threatened.
Mr Bray said: "He [David Davies] was the physical one. He came across and a flag touched his hair.
"He has grabbed the flag and was basically squaring up to me.
"He is trying to make something."
The MP told BBC Wales: "They have got every right to protest.
"Good for them - that is democracy. But I have got every right to go about my business.
"I have reported it to the police. I accept that there is probably not much that can be done.
"There was no real law broken but it is a form of harassment.
"I am now filming myself every time I walk along there."
Mr Bray said: "I see the police every day. If there was a problem, I'm sure they would have arrested me."
Gower Labour MP Tonia Antoniazzi was at the scene, meeting school children.
She said of Mr Davies: "He should have walked away given the situation he was in. It was disappointing."