Theresa May's Wales-England A&E comparison 'clarified'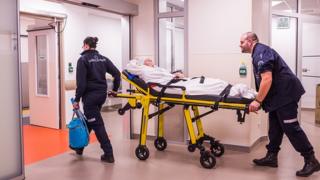 The prime minister has "clarified" her use of figures for NHS waiting times in Wales after being rebuked by the UK's statistics watchdog.
In a written statement Theresa May accepted that A&E figures for Wales and England were "not directly comparable".
But she said figures showed a higher proportion of patients waited more than 12 hours in Wales than in England.
And she said a proportionately higher numbers of patients were seen within four hours in Wales than in England.
Mrs May was rebuked by UK Statistics Authority chairman Sir David Norgrove after First Minister Carwyn Jones complained, accusing the prime minister of "misleading....selective misuse of statistics".
In her written statement, Mrs May told MPs: "During Prime Minister's Questions on 24 January I understand that the monthly 12 hour figures I used, while accurate and drawn directly from data published by the relevant NHS authorities in England and Wales, are not directly comparable.
"I should have used the latest annual data which shows that 3.4% patients waited over 12 hours in Wales last year, compared to 1.3% in England, and the latest monthly data on A&E performance which shows that 85.1% of patients in England were seen within 4 hours in December 2017 compared to 78.9% in Wales."