Call for law to make all playgrounds disabled-friendly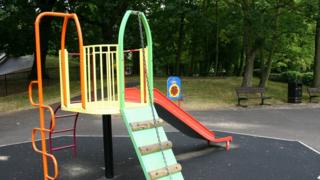 All playgrounds should include equipment for children with disabilities by law, an AM has said.
Cynon Valley AM Vikki Howells said disabled children were being denied proper play areas and this was having a negative impact on them.
She argued councils were only duty-bound to "assess and secure sufficient" facilities for able-bodied children.
Children's Minister Huw Irranca-Davies said current laws were "sound and fit for purpose".
During a debate in the assembly, Ms Howells said a lack of equipment would impact "the health, well-being and the ability of these children to interact with their friends, family and society".
Ms Howells called on the Welsh Government to consider an "inclusive play" law to "place a duty on local authorities to provide play equipment and play areas that meet the needs of children with disabilities".
But Mr Irranca-Davies said Wales was "a play-friendly country" and more could be done to promote inclusive play but he added that further legislation "was not the best way forward".
The minister said council "play sufficiency assessments" should identify where play areas for children with disabilities are required.