Carwyn Jones could be replaced this year, says Labour AM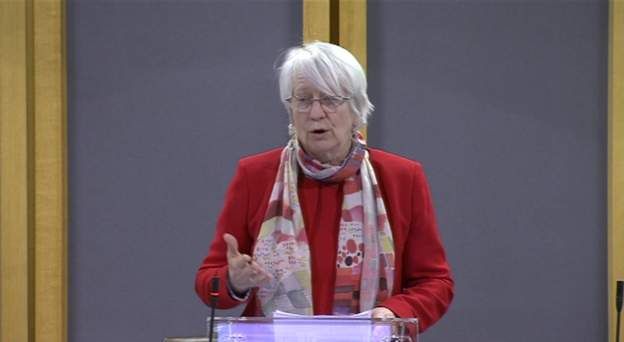 A Labour AM has said Carwyn Jones could be replaced as Wales' first minister and Welsh Labour leader this year.
Cardiff Central AM Jenny Rathbone said the possibility of this happening is "certainly on the agenda".
Mr Jones faces an inquiry into his sacking of communities secretary Carl Sargeant, who was later found dead.
The first minister said he saw "no problem" working with Jack Sargeant, who won the by-election to succeed his father as Alyn and Deeside AM.
Mr Jones did not visit the Flintshire constituency to campaign for Labour in Tuesday's by-election, which Jack Sargeant won with 60% of the vote.
His father was found dead in November four days after being sacked from government and suspended by Labour following allegations, which he denied, about his personal conduct towards women.
Mr Jones has been criticised for his handling of the sacking and Paul Bowen QC is currently leading an independent inquiry into the matter.
Asked by political commentator Gareth Hughes in a podcast if Wales would have a new first minister this year, Ms Rathbone replied: "There are certainly plenty of runners and riders already declaring their hand.
"So it's certainly on the agenda."
Asked if the first minister had the support of Labour assembly members, Mr Skates said: "I can tell you there is no movement against him.
"I know there is always speculation about who is going to be next, who is the next leader? There's nothing new in that.
"I know that there will be a lot of speculation but the fact is Jack's going to be coming down next week. He is focused on delivery for the people of Alyn and Deeside."
Carwyn Jones told BBC Wales on Thursday that he looked forward to working with the new Labour AM, although he said he had not yet had a chance to speak to him following his victory.
"There's no problem from my perspective and I want to make sure that Jack develops into a hugely effective assembly member for Alyn and Deeside," he said.
Asked why he failed to join Mr Sargeant on the campaign trail when Labour leader Jeremy Corbyn did, Mr Jones said: "Time was part of the problem."
He added: "There are no tensions.
"The team worked very well and we see that in the result - the best result for Welsh Labour in any assembly election [in Alyn and Deeside] and that's a tribute to all the people who worked so hard on the ground."
Irish lawyer James Hamilton is leading a separate inquiry into whether Mr Jones misled the assembly last November, when the first minister said no one at the top of his government had complained about bullying back in 2014.
On the podcast, Ms Rathbone was asked if she had seen signs of bullying in the Welsh Government as chair of a committee overseeing use of EU funds in Wales in 2015.
She said: "Not in carrying out my duties on that committee, no, but there certainly were people who didn't take kindly to anybody challenging their position.
"They were mini-dictators.
"So yes, I wouldn't be surprised at the remarks made by others that there was bullying going on."
A spokesman for the Welsh Conservatives said: "Something must be very wrong for senior Labour AMs to talk of 'mini-dictators' at the heart of their own government.
"And it's now open season on Carwyn Jones - with Labour AMs publicly admitting that an imminent change of First Minister is on the agenda."
A spokesman for the Welsh Labour Government responded: "Jenny Rathbone confirmed that she had never witnessed any bullying. Attempts by the Tories to spin this into a political attack are desperate and wrong."