Welsh Assembly: Much committee work 'unnecessary'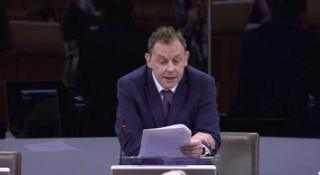 Much of the Welsh Assembly's committee work is "unnecessary", according to a UKIP AM.
Gareth Bennett also suggested some committees could meet every fortnight rather than every week.
His comments came after AMs approved a decision to consult on the recommendations of an expert panel on assembly electoral reform.
The panel has called for an extra 20 to 30 AMs and for 16 and 17-year-olds to be able to vote in assembly elections.
AMs were given powers to make changes to the way they are elected under the 2017 Wales Act.
The panel, chaired by Prof Laura McAllister of Cardiff University, also recommended a change in the voting system, to a proportional method called the Single Transferable Vote.
On Wednesday AMs approved "the Assembly Commission's decision to consult on the Panel's proposals and other electoral, franchise and internal reforms made possible by the Wales Act 2017" without objection.
But speaking in the chamber, Mr Bennett told AMs, "If we look at the forward work programme of all of the assembly's committees, does all of this work really need to be done?
"I have to say, from my viewpoint, no, a lot of it doesn't.
"So, a lot of the committee work is unnecessary. Some of this could be stripped out and the programme significantly reduced."
Angela Burns AM said the Welsh Conservatives "believe we should enable and support the Assembly Commission to conduct a thorough and inclusive consultation process".
Plaid Cymru's Simon Thomas welcomed the panel report and the intention to conduct a "genuine consultation with the public".
Chair of the National Assembly Labour group, Vikki Howells, thanked the expert panel for their work and said she looks forward to "engaging in the conclusions from the Assembly Commission's consultation".
Assembly Presiding Officer Elin Jones said "we will be moving forward now to engage broadly in a constructive way with constituents across Wales to hear their viewpoints and their priorities in terms of how we can develop our own Parliament for the next 20 years of devolution".
The report also says a gender quota would boost the number of women in the Senedd, and the option of standing as a "job share" candidate would aim to encourage people with disabilities or caring responsibilities.
Votes at 16 were also recommended, as long as it was accompanied by "appropriate political and citizenship education".
Any changes will require a law to be passed in the assembly with a two-thirds majority.