AMs' access to Brexit document extended after row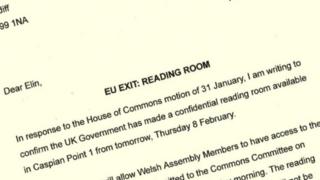 AMs will be given extra time to see UK Brexit documents after Plaid Cymru dismissed an initial offer as "half-hearted".
Brexit Minister Robin Walker had offered AMs the opportunity to read the papers in a confidential reading room - but only over two days.
Plaid said AMs should have the same time to see the documents as MPs.
Welsh Secretary Alun Cairns has now told AMs he will open the room for the whole of next week.
In a letter to assembly Presiding Officer Elin Jones sent on Wednesday 7 February, Mr Walker said that a UK government official would be present at all times in the reading room at the Wales Office in Cardiff Bay.
Mr Walker offered two access slots on Thursday 8 February and two slots with the same hours on Friday.
Following complaints, Mr Cairns wrote to Ms Jones, saying: "We are very keen to ensure that you have time to scrutinise the document, therefore I have decided to make the reading room open for your use throughout the entirety of next week."
The "preliminary analysis" papers were submitted to committees in the House of Commons and House of Lords earlier this week.
They suggest Welsh economic growth would be lower than under current forecasts - by as much as 9.5% over 15 years in the scenario that no deal is made with the EU, 1.5% if the UK remains in the single market and 5.5% if a free trade deal is struck.
Confidential reading rooms have also been set up for MPs - and MSPs in the Scottish Parliament - so they can see the documents.
But a similar letter from Mr Walker to MSPs - telling them the reading room would be under supervision and by appointment in two short blocks - also sparked a row.
Plaid Cymru leader Leanne Wood welcomed the extension, adding: "We should never have been in a position where a chorus of disapproval had to emerge before Westminster treated Wales with an ounce of fairness."
In a letter to Brexit Secretary David Davis, the Plaid group called for AMs to be given more time to see the documents - which it said should be public anyway - and available at the assembly itself.
But Mark Reckless, the pro-Brexit independent AM for South Wales East, tweeted: "Why would we want to read garbage from forecasters utterly discredited by the recession they predicted would happen immediately if we voted Leave?"
The Welsh Government said: "This is simply not good enough. The lack of transparency in the way the UK Government has gone about this will undermine peoples' confidence in their ability to secure a Brexit deal that works for the whole of the UK.
"UK Government have given short-notice, time limited access to this info in stark contrast to the Prime Minister's warm words on respecting devolution during the Brexit process."
A UK government spokesman said: "We have given all Welsh AMs an extended opportunity to view the document.
"We hope this enhanced flexibility, agreed by the Secretary of State for Wales, allows all AMs to take the opportunity to view the papers."