Justice system has reached crisis point, says top barrister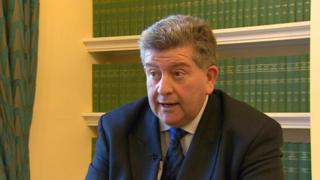 The criminal justice system has reached crisis point, one of Wales' top criminal barristers has warned.
Andrew Taylor said the system was "creaking" after years of budget cuts.
He also warned of a "crisis of confidence" in criminal justice after cases collapsed because of issues around disclosure of evidence and a major forensics services provider went out of business last month.
The Ministry of Justice was asked to comment.
Mr Taylor warned problems in the England and Wales' criminal justice system could lead to "innocent people going to prison, while the guilty walk away".
He said the issue of disclosure - where there is a duty on police and prosecutors to give evidence to defence lawyers - has been a "problem bubbling away" for years.
"I have come across on occasions too numerous for me to specify where we're been writing to the police and the CPS time after time, where my client says 'you will find evidence on a phone, you will find evidence on social media'," Mr Taylor told BBC Wales' Sunday Politics programme.
"Very often, we've been told, 'we've looked and we can't find it, and do you really expect us to go trawling through 4,000 text messages and 200 hours of CCTV?'"
The issue has been raised over the last few weeks following the collapse of rape cases, including those of Liam Allan and Oliver Mears, when evidence was uncovered supporting their defence cases.
Mr Taylor also said there was added pressure on the system after the country's largest forensic service providers - Key Forensic Services (KFS) - went bust last week.
KFS was working on 2,000 cases for 30 forces and the work now being funded temporarily by the police.
Forensic Services regulator Dr Gillian Tully told MPs the collapse was a result of the "constant downward pressure in price".
And ex-Labour Police and Crime Minister David Hanson said the closure raised questions about the UK government's privatisation policies.
Forensics work has been outsourced since 2012.
Welsh Conservative chairman and ex-Gower MP Byron Davies said some of the disclosure issues were down to training.
"I don't think the criminal justice system has hit a crisis point at all," he said.
"The criminal justice system is going through a particular period now of some difficulty, and I think that's more down to the organisations that work within in it, as opposed to any sort of funding issue that people allege is happening".
Alison Saunders, director of public prosecution, has launched an urgent review of rape and serious sexual assault cases to ensure evidence has been disclosed.
A CPS spokesman said: "It is clear that there are systemic disclosure issues across the entire criminal justice system, and it will take a collective effort from all parts of the CJS in order for improvements to be made.
Last week, MPs approved a grant for a year-on-year increase of up to £450m across the police system in Wales and England for 2018-19.
A Home Office spokesman added: "The failure of Key Forensic Services is unfortunate, but there are other forensic science providers carrying on this vitally important work."
Sunday Politics Wales, BBC One Wales, 11 February, 11:00 GMT