Harassment in politics: Why is the Welsh Assembly not talking more about it?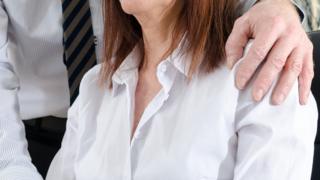 Back in November all the party leaders in the National Assembly for Wales came together to announce new rules about tackling inappropriate behaviour.
In a joint statement they said they would "work together to clarify and strengthen our procedures to ensure that individuals feel more empowered to report allegations of inappropriate behaviour, and that such allegations are investigated thoroughly and fairly - for all involved".
It came in the midst of allegations of sexual harassment in Westminster and in Cardiff Bay.
But whereas in Parliament they have now come up with a new set of rules about how MPs should behave, in the assembly it will be several months until AMs will have to abide by the new so-called respect and dignity policy. In the meantime there is already a code of conduct by which they have to abide.
In Cardiff Bay there seems to be much less discussion about this issue than is the case in Westminster, and I think there are two reasons for this.
Firstly, there is, clearly, a sensitivity due to the death of Carl Sargeant a few days after he insisted he would clear his name following allegations of "unwanted attention, inappropriate touching or groping" by women.
The handling of those allegations by Carwyn Jones is the subject of a QC-led inquiry and has led to the greatest challenge of his time as leader.
But, at the same time, I have been told that women who have supported the right of other women to make complaints against politicians in Cardiff Bay have faced "a barrage of attacks" on social media and no longer feel it's possible to discuss the subject.
One told me that she "was desperate for women's voices to be heard but it's just not possible" because of the "attack and vitriol on social media".
Secondly there is a separate issue regarding accusations of bullying against a former Plaid Cymru AM, Neil McEvoy.
It took nearly ten months for the party to decide whether or not to take action over eleven complaints against Mr McEvoy.
Frustrated at the slow pace, and keen to clear his name, Mr McEvoy sought to get the details of the complaints and complainants from the party, some of which he later published at a press conference to claim a vendetta against him.
Plaid later apologised after saying it had given the details to Mr McEvoy "in error".
Following the incident some of the women who had complained said "it may now be more difficult for women to be confident in raising such matters".
The assembly standards committee is looking into the "existing procedures around complaints to ensure they are appropriate and clear so that individuals feel able to come forward with confidence about any concerns regarding inappropriate behaviour."
It is still taking evidence and is not expected to publish its findings for a while, the idea being that they want the new rules to be robust and, as one source on the committee told me: "Better to do it right than do it quickly".
'Cautious optimism'
In the meantime the assembly's standards commissioner - former High Court Judge Sir Roderick Evans - has been asked to look at how the guidelines of the political parties can be aligned to the assembly's new respect and dignity policy.
He has met with some of the party leaders and, from what I gather the discussions seem to be going well.
One source told me there's cautious optimism that things are moving in the right direction and that they are happy that Sir Roderick seems to be taking a big interest in the subject.
From a Labour point of view I understand the party follows the UK Labour guidelines on dealing with harassment, and so Sir Roderick is dealing with both Welsh and UK-wide officials.
All these changes will, it is hoped, make it easier for women to complain about harassment, but there is a greater fear that the current climate makes it difficult for those women to talk about the issue openly.