Senedd to be given vote on £1.4bn M4 relief road plans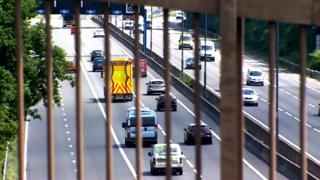 AMs will get a vote this year on plans for an M4 relief road south of Newport, BBC Wales has been told.
Several Labour AMs and opposition parties have called for a vote once a public inquiry is completed.
Welsh ministers favour the so-called "black route" - a £1.4bn 15-mile stretch of new motorway.
Some Labour backbenchers want the money spent on public transport instead. The vote will be seen as a test of First Minister Carwyn Jones's authority.
It follows a difficult few months for Mr Jones following the death of Carl Sargeant, who was found dead four days after he was sacked by the first minister in November.
Mr Sargeant had denied allegations of inappropriate conduct towards women and is thought to have taken his own life.
A former adviser to UK Labour leader Jeremy Corbyn has told the BBC Wales Live programme building a relief road was not something a Labour government should be doing.
Steve Howell, who previously ran a business in Cardiff, said it would be a mistake if Mr Jones tried to "push it through" at this stage of his tenure as first minister.
Mr Howell was Mr Corbyn's deputy director of strategy and communications during last year's general election campaign.
Mr Howell thinks a relief road would push traffic congestion to other parts of the road network and the money should be spent on the South Wales Metro public transport project instead.
"It is the reality that it is the relief road versus the Metro," he said.
"This will use up the entire capital budget that's available to Wales."
He said the M4 is "not environmentally sustainable" and is "not even going to do the job it claims it's going to do in terms of reducing congestion".
Last year, Labour AM Lee Waters suggested a government decision to go ahead could face a judicial review, meaning a further delay.
Mr Howell said that would mean Mr Jones could run out of time to approve the project.
"He [Carwyn Jones] has said, I gather, that he thinks in terms of 10 years, two terms as FM [first minister], that's certainly what Rhodri did - he stood down before anyone asked him to stand down and we are coming up to 10 years next year.
"So you would imagine that any delay means it goes past the end of his term and to try and push it through at this stage in his term would be a mistake because he would be leaving his successor with the delivery of a project that a lot of people frankly don't want."
But Welsh Government Transport Secretary Ken Skates said it was "essential we don't just look at individual transport projects in isolation".
"The Metro is designed to primarily transport people on a north-south basis within the region," he said.
"The M4 is the key artery for the entire south Wales region and it's essential that artery is not clogged."
Mr Skates said he would listen to the views of his Labour colleagues.
"We have always said our preferred option is the black route and we will make a decision based on the outcome of the inquiry, but I think that consideration needs to be extended to all members within the Labour group," he added.
A Welsh Government spokesman said: "The Welsh Government will table a debate on the M4 plans later this year."
Plaid Cymru spokesman Adam Price AM said he was "pleased to see the Welsh Government concede" to a full assembly vote on the proposals, and said Plaid Cymru would continue to push for the alternative 'blue route'.
"This is one of the largest spending commitments in the history of devolution," he said. "If MPs are given a vote on plans for HS2 and the restoration of Parliament, then AMs should have the same right when it comes to deciding on the future of the M4."
Conservative economy spokesman Russell George welcomed ministers' "clarity" but warned the announcement "must not be a token gesture and should include a binding vote on the financial aspects of the project".
BBC Wales Live is on BBC One Wales at 22:30 GMT on Wednesday 14 February and then available on BBC iPlayer.