Free swimming for children and pensioners reviewed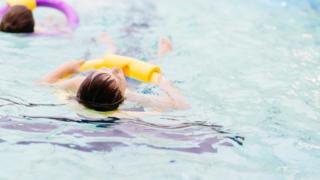 Free swimming for children and pensioners is being reviewed by Sport Wales, which oversees grassroots sport.
A £3.5m Welsh Government grant funds it for school holidays and weekends.
But it is delivered by local councils in different ways, with councils in more deprived areas given more money.
An independent review into Sport Wales last year called for action to improve its performance and skills management. The body says the reviews were in the pipeline when the report came out.
Free swimming for people over 60 was introduced as a pilot in 2003, then extended to cover under-16s during school holidays before being launched nationally in 2007.
Following an earlier review, in 2015 the funding was targeted more heavily towards poorer areas of Wales and lessons for youngsters rather than free time in the pool.
A Welsh Government spokesperson said: "We will be contributing to Sport Wales' review of free swimming and look forward to receiving their report in due course."
A review by external consultants is also being carried out into the £1m a year Dragon Sport programme for primary schools - which has run for 15 years - and the £4.3m programme targeted at secondary schools called 5 x 60, which has been operating for around a decade.
Assembly members recently criticised a perceived lack of evaluation of the schemes.
A report last week from the Public Accounts Committee said: "The committee is very concerned that projects have been able to run for a significant period of time without any evaluation particularly in a current economic climate with continued austerity and pressures on public funding.
"We believe it to be essential that public funded projects are fully evaluated to ensure intended outcomes are being achieved alongside value for money."
Sport Wales chief executive Sarah Powell told the committee in October 2017 that no independent evaluation of the 5 x 60 programme had taken place to date.
But in a statement later supplied to the committee, Sport Wales has insisted a range of independent organisations had looked into its schemes.
The statement said: "An implicit part of our way of working is to learn and evaluate, whether this is through formal evaluations or in more informal ways.
"We have continually looked to review and evolve our approaches."
Sport Wales said there had been a significant increase in the proportion of young people taking part in sport.
The organisation has an annual budget of £40m, around half from the Welsh Government and half from the National Lottery.
Sport Wales is already in the middle of a public consultation on developing a future strategy after a turbulent few years, which saw the sacking of chairman Paul Thomas and vice chair Adele Baumgardt in March 2017 after an "irretrievable breakdown in relationships" with their board.
---
Analysis by BBC Wales political editor Nick Servini
The provision of free swimming was part of Welsh Labour's manifesto which means change, rather than abolition, is likely to be the order of the day.
In recent years there has been a move towards a more targeted approach in deprived communities.
The challenge in the review will be to continue with that, while still maintaining a degree of universality.
Sport Wales is already undergoing a public consultation to work out its future strategy, running alongside that now will be reviews looking at the effectiveness of what it has been doing for years.
After the bloodletting at the top of this organisation for years, it should at least be able to deal with any change without the acrimony of old, following big changes to the board.