Panic attacks have huge effects - Tory AM David Melding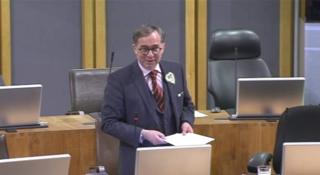 A senior Conservative AM has spoken of his experiences of "horribly debilitating" panic attacks.
Ex-Assembly Deputy Presiding Officer David Melding said such episodes have a "huge effect on your confidence".
Mr Melding was contributing to a debate on mental health in the Senedd.
AMs passed a motion expressing regret "that some people with mental health conditions face injustices and challenges when accessing services".
AM for the South Wales Central region since the beginning of devolution in 1999, Mr Melding told AMs that "when you get through" the attacks, "and when you've had the treatment, the support, whatever it is, the fulfilment you feel, the well-being you feel, and the stability you feel is something beyond measure.
"I think any services that get people to that better condition are to be hugely valued. They're not often very intensive."
He added: "We're not talking about people in serious illness. Let's remember that.
"Anxiety and depression and panic attacks: they may accompany more serious illness, but people who are not seriously ill in terms of their mental health can still be prone to these things."
Mr Melding, assembly deputy presiding officer between 2011 and 2016, concluded that "mild to moderate ill health can be very, very debilitating [and have] huge effects on the economy as well, and family life and all sorts of things."
The Conservative motion, passed by AMs on Wednesday, also calls on the Welsh Government to "ensure that Wales's health and social care sectors are able to deliver effective, preventative mental health services".
The Welsh Government supported the motion.
Health Secretary Vaughan Gething paid tribute to Mr Melding for his "bravery for sharing his own experience, both of going through mental health challenges and being able to come out the other side and say, 'I recognise I'm in a better place now as a result.' "
He added, "we continue to spend more on mental health services than any other part of NHS Wales," with nearly £650m specifically dedicated to them in the next financial year.
Mr Melding was one of four assembly members who shared their experiences of mental health issues in 2012, including the now Economy Secretary Ken Skates.