Pep Guardiola: Plaid MPs condemn FA over manager's ribbon charge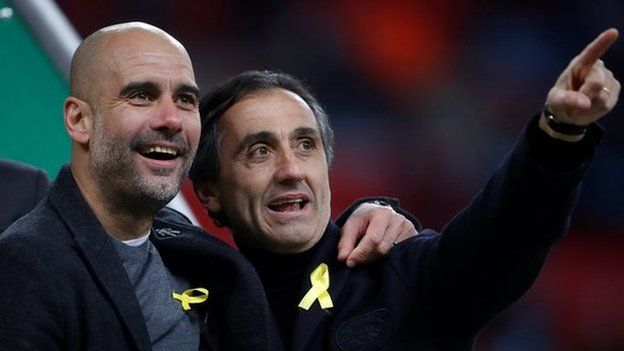 Plaid Cymru MPs have criticised the Football Association for charging the manager of Manchester City Pep Guardiola for wearing a yellow ribbon.
The former Barcelona coach has said he will continue wear the ribbon to support Catalan politicians jailed for promoting independence from Spain.
He has been accused of breaching kit and advertising regulations.
The four MPs condemned the FA's decision in a House of Commons early day motion.
Mr Guardiola's charge was triggered when he wore the ribbon on his jacket pitchside. He is allowed to wear it elsewhere.
The Manchester City boss has insisted he will continue to wear the ribbon.
"It's not about politicians, it's about democracy; it's about helping the people who didn't do absolutely anything," he said on Monday.
Several pro-independence politicians have been imprisoned in Spain in connection with an independence referendum held in Catalonia last year.
The sacked regional President Carles Puigdemont remains in self-imposed exile in Brussels.
Jonathan Edwards, the MP for Carmarthen East and Dinefwr, said: "Pep Guardiola must be applauded for taking a brave stance in support of the unjustly imprisoned Catalan leaders, who were democratically elected to lead their country.
"The Spanish Government's actions, in imprisoning its political opponents, are out-of-step with the democratic principles expected of a European state and an ally of the UK.
"The English Football Association's decision to charge the Manchester City manager for expressing his support for his country's elected leaders must be condemned.
"The UK government should be putting heavy pressure on its allies in Madrid to respect the will of the people of Catalonia and pursue a peaceful and democratic solution."