Devolving broadcasting 'may mean less money'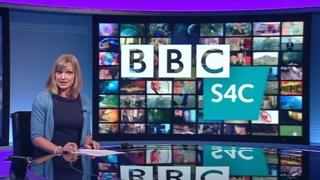 Transferring broadcasting powers from Westminster to Cardiff could mean less money for those serving Welsh audiences, a media academic said.
Prof Ruth McElroy said it could see the licence fee divided up according to England, Wales, Scotland and Northern Ireland's populations.
And as a result this would mean less money for Wales.
The main public service broadcasters serving Welsh audiences are BBC, ITV Wales and Welsh language station S4C.
The BBC and ITV Wales are both regulated by the UK communications regulator Ofcom, both with certain requirements in serving Welsh audiences.
S4C is mainly funded by the licence fee supplemented by a UK government grant.
University of South Wales' Prof McElroy told the BBC's Sunday Politics Wales programme if the devolution of broadcasting went ahead.
"It's unclear what the methodology would be for raising funding.
"If we take the BBC as one example. Currently that's paid for by the licence fee that we all pay," she said.
"One way of doing that would be to cut that appropriately to the populations of the different nations.
"That could mean that actually we end up with less money to be spent on broadcasting in Wales than we currently have.
"I think that is something that in terms of the practicality of the devolution of broadcasting that really needs to be worked through in a little bit more detail by those who are calling for it."
However, she said this could be different for Welsh language services.
During a debate in the Assembly Plaid AM Sian Gwenllian said: "Devolving broadcasting is more important than ever, to ensure that Wales's voice is heard.
"A combination of a lack of plurality in the Welsh media, and a reduction in broadcasting hours, has restricted political debates and therefore restricts democracy."
But culture minister Dafydd Elis-Thomas AM said: "I continue to hold the view, both personally and as a minister with four or five months' experience, that now is not the time to start talking about devolving broadcasting, in part or in whole, to Wales as part of the developing devolution settlement.
"The industry is one which has operated and developed not only through regulation that exists on a UK level, but also through international regulation."
"The Welsh Government might decide that something like S4C - given its policy of wanting to get one million more Welsh speakers by 2050 - that it would make a decision to put more funding into S4C," she added.
Dr Jamie Medhurst from Aberystwyth University's Department of Television, Film and Theatre Studies said bringing broadcasting under the remit of the Welsh assembly would then put it in competition with other devolved budgets.
"At the moment, one could argue that the Department for Digital, Culture, Media and Sport funding is ring-fenced, it's safe," he said.
Broadcaster Guto Harri favours the devolution of powers over the sector in principle.
But he suggested that if this was to happen, there was no guarantee there would be more money available for Wales-based services because of pressures on public spending.
"When you are grappling with a limited budget and you're looking at broadcasting, however important, versus schools and hospitals and all those other very pressing needs," he said, "then I think it's highly unlikely that politicians who face their electorate every weekend are going to actually channel more money into TV and less into schools and hospitals."
The BBC has a duty to produce at least 470 hours-per-year of programming specifically for Wales across BBC One and BBC Two, of which 250 hours is news and current affairs on BBC One.
ITV Wales operates under a single licence for Wales and must produce at least five and a half hours per week of programming for the whole of Wales across news and current affairs.
An independent review of the funding model, remit and governance of S4C is set to be published soon.
Sunday Politics Wales is on BBC One Wales at 11:00 GMT on Sunday 4 March