Public sector money saving scheme loses millions in cash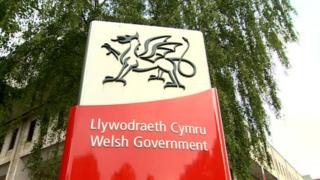 A body designed to save money in the public sector has had to be bailed out by the Welsh Government after making millions in losses.
The National Procurement Service (NPS) aimed to bulk-buy items like electricity and agency staff worth more than £1bn a year.
But a spending watchdog found only £150m was spent by public bodies through the service in 2015-16.
The Welsh Government said a review of NPS is under way.
A report by the Wales Audit Office found that the NPS had generated savings of £25m to the bodies which used it in 2015-16.
But the body was only able to recoup £339,143 to cover its £2.4m operating costs, leaving it with a loss in the region of £2m.
In the following 2016-17 financial year, there was a rise in the value of the contracts it handled to £234m.
However, it only made savings of £14.8m - about 60% of what was expected - and it continued to make a loss of about £2m.
The NPS has not been able to repay a £5.9m Welsh Government loan and government reserves are continuing to meet the shortfall until the end of this financial year.
The service was set up in 2013 by then Finance Minister Jane Hutt, who said it was going to be a "very Welsh way to meet Welsh business needs but also value for money for the Welsh pound".
The idea behind the service was to make increased annual savings to public sector spending in Wales of more than £4bn.
The audit office also found that only a third of public bodies who took part in a survey were satisfied with the service.
A third of local authorities, and even the Welsh Government, which created the service, were dissatisfied.
The future of NPS was discussed in a meeting of the public accounts committee at the assembly this afternoon.
The leader of the Welsh Conservatives Andrew RT Davies tweeted: "Even the government expresses dissatisfaction with its own service, you couldn't make it up."
A Welsh Government spokesperson said: "We welcome the findings of the Wales Audit Office report published last year. The report highlights that public sector expenditure through the NPS agreements is growing year on year.
"In 2016/17 it reached £237m and is on target to exceed that figure in 2017/18.
"The Wales Audit Office report also identifies that the savings generated by the NPS for the public sector exceed the investment in establishing the service."
The spokesperson said the government recognised more work needs to be done and a review is underway to refocus the NPS.