Brexit: Plaid Cymru EU citizenship call passed in Commons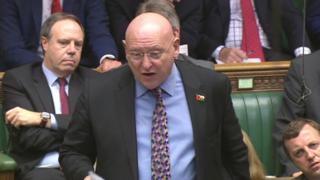 A Plaid Cymru call for UK nationals to retain EU citizenship after Brexit has been passed by MPs without a vote.
But the result is not binding on the UK government.
Its ministers had opposed the proposal during a three-hour debate.
Brexit Minister Robin Walker said only citizens of EU member states are able to hold EU citizenship and that the option will only be open to British citizens if they have dual nationality with an EU country.
Plaid Cymru said it was the first time one of its motions has been passed by the Commons.
Conservative MPs rarely take part in non-binding votes called by opposition parties.
The motion also called for Britain to remain in the EU's single market - which has been ruled out by the government.
Plaid Cymru say continuing EU citizenship would give British nationals the right to travel, live, study and work anywhere in the EU "and a wide range of other rights under EU law regarding health, education, work and social security".
A legal challenge in the European Court of Justice is also expected.