National Procurement Service boss 'steps back' from day-to-day management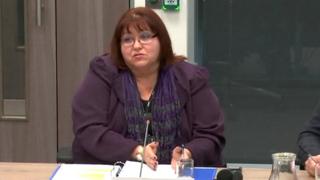 The director of a public spending body which is being bailed out by the Welsh Government has stepped aside from its day-to-day management.
Sue Moffatt, director of the National Procurement Service (NPS), has handed over responsibility to her deputy while a review is carried out.
The organisation was set up to save money for public organisations by bulk-buying items like fuel and food.
Public accounts committee chair Nick Ramsay AM said "all is not well".
The NPS budget is only around a tenth of what was envisaged in its business plan.
In the last financial year, it spent £234m on behalf of different organisations such as local councils and the NHS, but its 2015 business plan estimated it should have been responsible for £2.2bn worth of spending by then.
It reported savings for different public bodies in that time of £14.8m, substantially lower than earlier estimates.
A Welsh Government loan of £5.9m to the NPS has not been paid back and ministers are using reserves to meet further shortfalls.
There were two critical reports about the performance of the NPS by the public spending watchdog the Wales Audit Office in late 2017.
One of the reports found that just 19% of those who took part in a survey agreed that using the service resulted in a cash saving. No-one felt strongly that it had led to a saving.
The Welsh Local Government Association said many authorities had expressed frustration and dissatisfaction.
In September, Finance Secretary Mark Drakeford announced details of a review to refocus the NPS to take advantage of any changes in rules on government spending after Brexit.
In a newsletter in November, the NPS confirmed its director Sue Moffatt would "step back from the day-to-day management of NPS for the period of the review", saying she would remain a commercial director of the Welsh Government with a range of responsibilities including an advisory role on procurement after Brexit.
Her day-to-day management role has been taken on by the NPS deputy director Jonathan Hopkins.
Conservative AM Nick Ramsay, who chairs the assembly's public accounts committee, said: "We have had concerns about the National Procurement Service.
"The fact that we have now discovered the director has stepped aside from the operational role reinforces our concern that all is not well with this arms-length part of government, which is responsible for spending a huge amount of public money.
"There has been a lack of clarity to date and I am sure our inquiry will shed some light on the lack of transparency."
A spokesman for the Welsh Government said it did "not normally comment on how civil service staff are deployed to meet Welsh Government priorities" but confirmed that Ms Moffatt was both the Welsh Government's commercial director and director of the NPS.
He added: "To make best use of her strategic procurement expertise while the review was being undertaken, Sue stepped back last October from the day-to-day NPS management elements of her role to drive forward Welsh Government's 'Brexit and procurement' programme, alongside a range of other priority commercial work."