Neil McEvoy's Leanne Wood boxing tweet deleted after criticism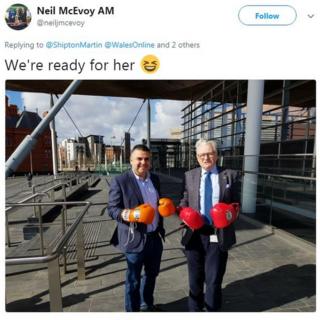 A tweet from the account of independent AM Neil McEvoy showing him wearing boxing gloves and saying he was "ready" for Plaid leader Leanne Wood has been deleted after criticism from other AMs.
The picture of him, with Culture and Sport Minister Lord Elis-Thomas, had been taken to publicise a boxing event.
Plaid Cymru AM Bethan Sayed said the tweet was "absolutely not funny".
An aide later admitted sending the tweet, saying he had done so without malice and has apologised to Mr McEvoy.
The picture was posted in reply to a tweet about a podcast interview with Ms Wood, with the message: "We're ready for her."
Mrs Sayed tweeted that the comment was "absolutely NOT funny".
The minister involved, through his official Welsh Government account, said the use of the photograph was inappropriate.
Mr McEvoy was expelled from Plaid Cymru's assembly group in January.
In the podcast interview, Wales Online journalist Martin Shipton asked Ms Wood which of the two AMs to have left Plaid's assembly group since 2016 - Mr McEvoy or Lord Elis-Thomas - she disliked more.
In reply, she said it was "not about personalities" but that she expected all members of Plaid Cymru to abide by the party's rules.
Former Plaid Cymru candidate Mike Parker called on South Wales Central AM McEvoy to justify the nature of the tweet.
He said: "Perhaps you'd explain which part of implying hitting a woman with boxing gloves on is the 'humour'? Kinda struggling to see it myself".
Plaid Cymru AM Sian Gwenllian called for Mr McEvoy to delete his tweet, saying "this language with this photo is not harmless humour".
In a subsequent post on Twitter, Mr McEvoy's account said it was "always good to keep a sense of humour".
The account later added: "I meant absolutely no malice by this. It was a jokey question from a journalist and I gave a jokey response.
"If [Leanne Wood] asks me to take the tweet down then I will happily do it. We're both members of the same party and on the same side."
"Why would he say this is about what Leanne thinks," asked Plaid AM Rhun ap Iorwerth. "I'm not aware Leanne has said anything, has she? The inappropriateness of the tweet speaks for itself."
'Upmost respect'
Lord Elis-Thomas said: "The implication of this tweet is wholly inappropriate - the original picture was taken to highlight the positive work of the new Cross Party Group on Boxing & should certainly not be used in this manner.
"Please take it down."
Matthew Ford, a senior advisor to Neil McEvoy, said: "I sent the tweet from Neil's twitter account without his knowledge. He usually manages his own account but asked me to promote his cross-party boxing event with the minister for sport.
"The tweet was sent without any malice. I have the utmost respect for Plaid leader Leanne Wood and Dafydd Elis-Thomas.
"I have apologised to Neil and will ensure that any future tweets sent on his behalf are checked by him first."