Christine Hamilton accuses senior UKIP aide of 'sleeping on job'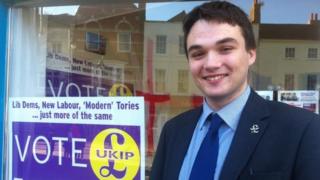 UKIP's assembly group's most senior aide has been accused of 'sleeping on the job' by the wife of the party leader in Wales.
Robin Hunter-Clarke's name appeared on a letter calling for reconciliation between UKIP AMs and Mandy Jones.
In an email Christine Hamilton, personal assistant to husband Neil Hamilton, rebukes Mr Hunter-Clarke for not distancing himself from the letter.
Mr Hunter-Clarke called the email "office banter".
Ms Jones left the UKIP group days after succeeding Nathan Gill as a North Wales AM in December.
In one email to Mr Hunter-Clarke, Mrs Hamilton said: "Neil says please draft a strong email and send it through to him.
"He says he asked you days ago to get a reply ready - where is it - I knew nothing about it until the email came from Bridget.
"Are you asleep on the job!"
'Explore all avenues'
Bridget Hall had previously written to Mr Hamilton on behalf of UKIP Wales branch chairmen.
In the letter she said: "Following discussions, it was agreed that a letter should be written, respectfully urging you both to explore all avenues to find a way of retaining Mandy as part of UKIP."
Ms Hall said a draft of the letter was sent to branch chairmen with "no objections received to it being sent".
Robin Hunter-Clarke said the letter does not reflect his views.
He told BBC Wales: "Wales has the weakest economy, education system and health service in the UK, yet sadly, the Welsh political media think office banter is headline news."