Corbyn unfairly maligned on spy attack, says Carwyn Jones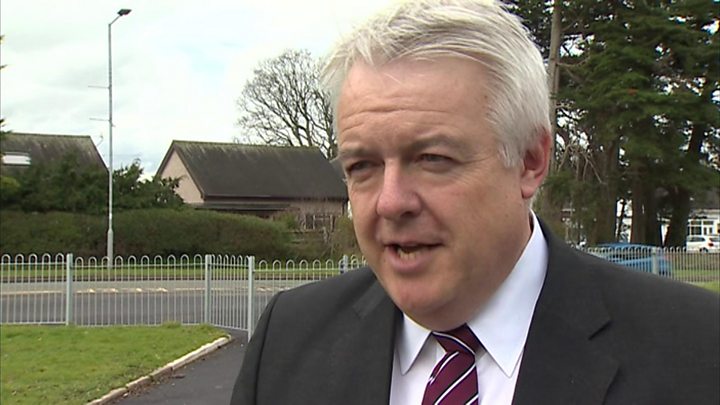 Jeremy Corbyn is being "unfairly maligned" over his response to the nerve agent attack on a former spy, Wales' first minister has said.
Carwyn Jones said the Labour leader had "very strongly" condemned the attack on former double agent Sergei Skripal and his daughter Yulia in Salisbury.
Labour MPs have accused Mr Corbyn of not using "the right tone" over Russian involvement in the incident.
Shadow Defence Secretary Nia Griffith said Labour backed the prime minister.
The Llanelli MP said the party accepted "Russia was responsible", after Mr Corbyn's official spokesman said Russian involvement had yet to be proved.
Speaking on a visit to St Asaph, Mr Jones told BBC Wales: "I think Jeremy Corbyn, in fairness, has been unfairly maligned.
"He condemned what had happened very strongly, I thought."
Mr Jones, one of the most senior Labour figures to defend Mr Corbyn's position on the attack, added: "You heard me say yesterday that I thought that the response from the prime minister is proportionate and robust and it has my support.
"I have full confidence in the investigatory authorities in terms of what they are doing and I fully support the response of the prime minister."
Ms Griffith said Labour's position was that Moscow was responsible for the attack - despite Mr Corbyn and his spokesman refusing to say this explicitly yesterday.
Speaking on BBC Radio 4's Today programme, Ms Griffith said: "We very much accept what the prime minister said.
"This is a very sophisticated nerve agent and Russia is responsible for this attack and therefore we're fully supporting the measures which the government is taking, including the expulsion of 23 diplomats."
Asked if she was at odds with Mr Corbyn on the issue, Ms Griffith said she was more "plain speaking" than her leader and that he had made it clear in "the subsequent statement that he put out" on Wednesday evening that Labour was "fully supportive" of the government's actions.
"I think the important thing is that is our position now," she added.
Welsh Labour MPs Stephen Doughty, Chris Evans and Stephen Kinnock are among the party's politicians who have signed a Commons motion supporting Theresa May's decision to expel twenty three Russian diplomats following the poisoning attack.
It appears to be a clear snub to their leader.