Tributes, anti-Welsh bigotry and that lagoon again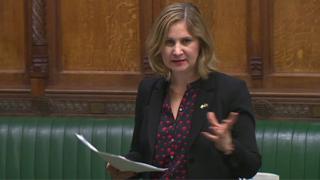 It seems like St David's Day was only the other day. In fact, it was only the other day but MPs marked it again on Monday evening by holding a debate on Welsh affairs.
The debate was originally scheduled for March 1 but was postponed due to snow. The rescheduled debate took place in government time and featured several issues that will be familiar to regular followers of Welsh politics at Westminster - rail electrification, the Swansea tidal lagoon and the impact (and type) of Brexit.
The arguments on the lagoon were familiar. Welsh Secretary Alun Cairns restated the UK government's view on its potential cost: "As the business secretary said last week, the Swansea proposal is more than twice as expensive as Hinkley nuclear power station, so we will continue discussions with the Welsh Government to look at the affordability of the case and do everything possible to make it a reality. However, the challenges are quite obvious."
Challenged by Labour MP Jo Stevens, he repeated: "The current proposal is twice as expensive as Hinkley nuclear power station."
That is strongly disputed by the company behind the project, Tidal Lagoon Power. To its supporters, comparisons with Hinkley are spurious but they are being made by ministers who will be accountable for the scheme's value-for-money to taxpayers. And if they think it's expensive, then the lagoon has a problem.
'Tributes'
The debates saw generous cross-party tributes to former Welsh Secretary Lord Crickhowell and former House of Lords leader Lord Richard of Ammanford, who both died at the weekend.
Despite the arguments over the lagoon and Brexit, the mood of the debate was more reflective and thoughtful than most. You can read the exchanges here.
The most striking intervention came from Cardiff North Labour MP Anna McMorrin. She criticised England rugby coach Eddie Jones for his recent comments but saw them as part of a wider pattern.
"It is almost fashionable," she said "for the liberal elites in London to make casual racist remarks about Welsh culture, Welsh accents and Welsh language. This seems to be one of the last acceptable forms of xenophobia and bigotry, and it is a remnant of English colonialism."
She reminded MPs of insults from times past from the likes of Roger Lewis and Anne Robinson. "I think those making xenophobic anti-Welsh comments are so pleased with themselves that they are unaware that their own comments amount to bigotry, and this has only got worse since the referendum."
Ms McMorrin claimed there was "a link between the free expression of such bigotry and the sense of false English superiority leading this government to pursue their hard Tory Brexit. Just as this government have completely and utterly abandoned all efforts to rebalance the economy of the regions and nations of this country, they are also taking decisions that will have a disproportionally negative effect on Wales."
'Influential'​
She said there were solutions through a more representative, less London-centric media. "The vast majority of the most influential journalists and broadcasters are English and broadcast from England. However, Channel 4 recently announced its commitment to investing in the nations and regions of the UK. I welcome that commitment and hope that it is followed by action that supports the establishment of a Channel 4 hub in Cardiff—one that truly reflects Wales and its communities."
Wales Office Minister Stuart Andrew said he was proud to have tried to fight bigotry wherever he could and would always stand up for people who are facing discrimination. "It is important to recognise, though, that not everybody is bigoted towards the Welsh.
"At the weekend, I was in my local pub, where most of my friends are English. Everyone has a nickname in the pub, and one of my friends, Mucker, had the grace to shake my hand and congratulate Wales on their strong performance. There is lots of support for us out there."