Plaid Cymru members urged to pull in same direction by Leanne Wood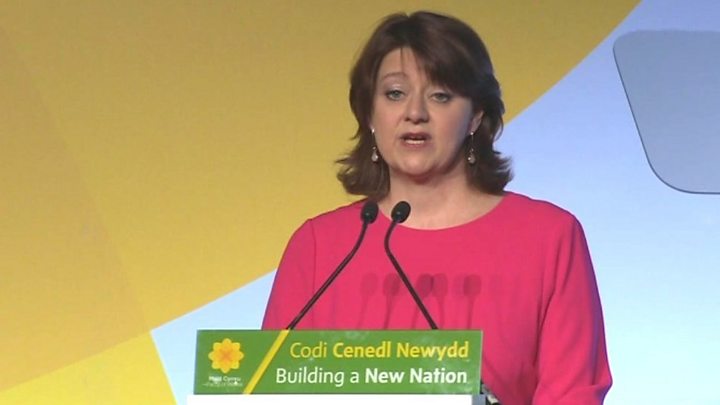 Leanne Wood has said Plaid Cymru members need to stand "shoulder to shoulder" in order to dislodge Labour.
At its spring conference in Llangollen, the Plaid leader said hers was the only party that could offer an alternative Welsh government.
But she said it needed to unite behind a "positive programme" to show voters it can offer an alternative.
It follows calls from two Plaid MPs to reposition the party in the centre and to be open to working with the Tories.
Ms Wood's speech was billed as an appeal to "build a new nation".
It included the offer of a right to mental health care for young people, with the threat of fines for health boards that cannot meet waiting times.
The speech began with an appeal for the party to "resist" a "power grab" by the UK government in a row over powers returning from Brussels after Brexit.
'Us or them'
But it ended with a rallying cry for Plaid to "take the next step towards being the Government of Wales".
"We are the only party that has ever had an alternative First Minister candidate to Labour," Ms Wood said.
"It's us, or them.
"But we need our own positive programme, and our own alternative.
"We will only get to where we want to be if we are all pulling in the same direction, standing hand-in-hand, and shoulder-to-shoulder."
Earlier Carmarthen East and Dinefwr MP Jonathan Edwards warned that the party would face "oblivion" if it lurched to the left, urging it to fill the "gaping void" in the centre of politics.
Dwyfor Meirionnydd MP Liz Saville Roberts told BBC Wales that Plaid should not rule out co-operation with the Conservatives in the assembly to unseat Labour, saying the party had to try something else or suffer "results you don't like".