Liddle Wales article complaints rejected by IPSO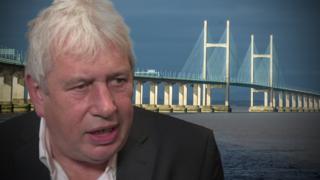 Complaints against a Sunday Times column that said the Second Severn Crossing linked "rain-sodden" Wales with the "first world" have been thrown out by a press standards body.
Rod Liddle's piece prompted nearly 80 complaints to the Independent Press Standards Organisation in two days.
IPSO rejected complaints of discrimination, saying the editor's code did not apply to groups of people.
The code does not address issues of taste, it added.
Mr Liddle's article followed a campaign launched last week against the renaming of the Second Severn Crossing to the Prince of Wales bridge.
More than 30,000 people have signed a petition against the move.
Mr Liddle - who began his journalism career on the South Wales Echo in Cardiff - wrote: "The Welsh, or some of them, are moaning that a motorway bridge linking their rain-sodden valleys with the first world is to be renamed."
He added: "They would prefer it to be called something indecipherable with no real vowels, such as Ysgythysgymlngwchgwch Bryggy.
"Let them have their way. So long as it allows people to get out of the place pronto, should we worry about what it is called?"
Plaid Cymru MP Liz Saville Roberts described his comments as "disheartening", while Welsh Language Commissioner Meri Huws said she was concerned at "the increase in offensive comments about Wales, the Welsh language and its speakers".
In a letter of response to complainants, IPSO said the complaints against Mr Liddle's article do "not raise a possible breach of the Editors' Code".
It said many complainants said "that the article was racist or discriminatory because it was derogatory towards Wales, the Welsh language and Welsh people".
"Newspapers and magazines are free to publish what they think is appropriate as long as the rights of individuals - which are protected under the Code - are not infringed on," IPSO said.
In cases of alleged discrimination, IPSO said the code was designed to protect "identifiable individuals" and "does not apply to groups or categories of people".
But it added that "if [Plaid Cymru leader] Leanne Wood were to consider that the article discriminated against her personally, it would be for her to complain to IPSO".
Mr Liddle's article had referred to "that Plaid Cymru woman who is always on Question Time has been leading the protests" against the change in name.
IPSO also rejected complaints that the article was inaccurate because it suggested the Welsh language had no vowels.
"The article was plainly not intended to give authoritative information on linguistics; it was a comment piece," he said.
Claims of inciting racial hatred were a matter for the police, IPSO added.
On Monday, Clwyd South Labour MP Susan Elan Jones said she had asked North Wales Police to investigate whether Mr Liddle had broken laws against inciting racial hatred.
Police and Crime Commissioner Arfon Jones said: "North Wales Police have carried out an assessment and have come to the conclusion that no criminal offence has taken place.
"However, that does not change the fact that the views expressed in the Sunday Times are morally repugnant and an absolute disgrace."