AM fears she was 'spied on' by Welsh Government over Hywel Dda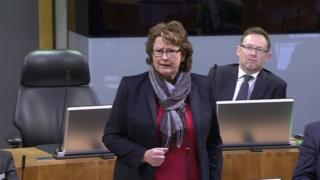 A row over the Welsh Government's attempt to obtain information on contacts Plaid Cymru AM Adam Price had with a health board has deepened.
Tory AM Angela Burns believes she was "spied on" after Hywel Dda health board said officials sought information on other AMs and MPs.
Simon Thomas said details of his dealings with Hywel Dda had also been sought by the Welsh Government.
"No-one is being spied on", the government said.
Mr Thomas has also said claims by First Minster Carwyn Jones that former Plaid Cymru ministers had sought similar information during their time in government were untrue.
Earlier in the year it emerged the Welsh Government had obtained information on attempts to arrange meetings between Mr Price and Hywel Dda health board over controversial plans for the future of NHS services in west Wales - information that turned out to be inaccurate and that the health board later apologised for.
Ms Burns told the Senedd on Tuesday a journalist had discovered, from Hywel Dda through the Freedom of Information (FOI) Act, that the Welsh Government had sought "further information about the engagement activities regarding other MPs and AMs".
She said she had been seeking information herself through data protection legislation over whether information of contacts between herself and public bodies had been sought by the Welsh Government, but that she had not had a reply.
In response, First Minister Carwyn Jones suggested Plaid Cymru ministers "did exactly the same while they were in government" as "Simon Thomas will be able to tell you".
"When a member asks a question, it is quite normal for research to be done on what the member has said about it, and perhaps what correspondence there is in order for Ministers to answer the question properly," Mr Jones said.
Mr Thomas - who served as a special advisor to the Labour/Plaid Cymru coalition from 2007 to 2011 - confirmed he was one of the AMs Ms Burns was referring to.
Speaking of his time as a special advisor, he said: "I never contacted public bodies to ask about their 'engagement activities' with AMs and the nature of those activities."
The health board said that the FOI read out by Ms Burns referred to another email, disclosed in a FOI response to BBC Wales, where a request was made for a "summary of the overall engagement that has taken place with all political parties in relation to the transforming clinical services programme".
Speaking to BBC Wales, Ms Burns said: "This is about the integrity of, and trust, that government must have.
"It is my job to be an opposition assembly member. I was elected by my constituents to challenge and scrutinise, not to be spied on by the government."
"It does make you think, is there something systemic going on? What are they trying to hide?"
"There could be absolutely nothing. It could be a storm in a tea-cup, but the trust in the government… is so low I can't take that at face value."
A Welsh Government spokeswoman said: "No one is being spied on and, far from hiding anything, our record on transparency speaks for itself. Last year, less than 9% of FOI requests were refused and over 90% of subject access requests were completed on time. "
"The way information is gathered for ministerial briefings has not changed. Ministers receive briefing on a Member's interest in a question. That is normal and not unique to this Assembly," she said.
"It helps ensure that answers are complete, accurate and up-to-date. We believe this ensures the effective running of Senedd proceedings and shows courtesy to Members."
During First Minister's Questions on Tuesday Plaid AM Adam Price had accused the Welsh Government of operating a "smear machine" - misusing resources to "silence and intimidate critics, including people within your own party".