Carwyn Jones 'not done yet' says Jeremy Corbyn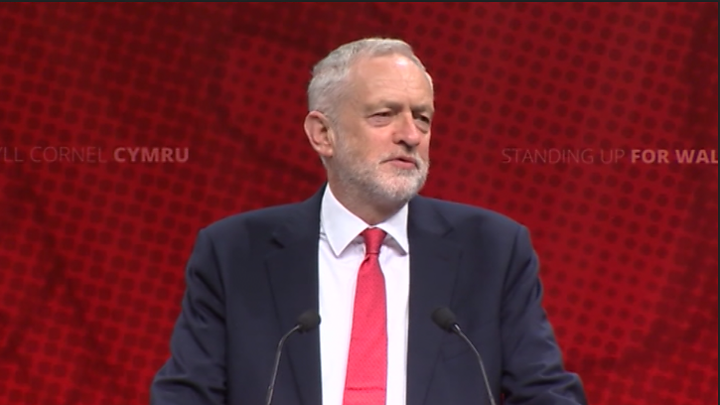 Labour leader Jeremy Corbyn has paid tribute to Wales' First Minister Carwyn Jones, following Mr Jones' announcement yesterday that he would be standing down in the autumn.
Mr Corbyn was speaking at the Welsh Labour Conference in Llandudno.
He thanked Mr Jones for his "tireless work" for Labour, and said that he "wasn't done yet".
Mr Jones said on Saturday he had seen the "darkest of times" following the death of ex-minister Carl Sargeant.
Carwyn Jones and Jeremy Corbyn have not seen eye-to-eye ideologically, although the first minister has never attacked him personally.
Earlier a lawyer representing Jack Sargeant said Mr Jones' decision to quit had not helped Carl Sargeant's family.
The Labour leader told conference that Mr Jones had called him yesterday morning to inform him of his decision.
Mr Corbyn paid tribute to the outgoing first minister's "tireless commitment", saying: "Thank you Carwyn for all you have done, and will do. You are not done yet mate.
"This conference must pay tribute to Carwyn for his tireless commitment to Wales, to a more equal country, and the determination to stand up for the people of Wales and be a strong voice for devolution and democracy."
Mr Corbyn's speech touched on the Windrush scandal, where some immigrants who came to the UK from the Commonwealth decades ago have been threatened with deportation or refused jobs or healthcare.
The leader said the debacle had "exposed how British citizens who came to our country to rebuild it after the war have faced deportation" because "they couldn't clear the deliberately unreachable bar set by Theresa May's 'hostile environment' for migrants".
"We've seen one government minister after another, including the prime minister herself, trying to dodge and weave around the facts to avoid scrutiny and entirely justified criticism," he said
Labour's leader said people's lives had been "ripped apart because of the personal decisions and actions of Theresa May and her government".
He added: "Under a Labour government there will be no bogus immigration targets, no discrimination between people of different races and religions, and no racist scapegoating of migrant communities emanating from Government departments."
'Live discussion'
Later, interviewed by BBC Wales, he pledged not to interfere in either the election to replace Carwyn Jones or the system to be used in that poll.
It follows the election of Swansea East MP Carolyn Harris as the party's first deputy leader in Wales, announced on Saturday, despite winning fewer votes than Cardiff North AM Julie Morgan among the party membership.
Under the terms of the poll's electoral college, the votes of MPs and AMs and groups linked to Labour, including trade unions, outweighed the membership.
Ms Morgan has said it is "absolutely essential" that the next leader is chosen on a one-member-one-vote franchise (OMOV), the system that was used to elect Mr Corbyn.
But Mr Corbyn said it was "not inevitable" that the process was changed to OMOV in Wales.
"This is a live discussion in the party in Wales," he said.
"I don't think it's my job as the UK leader to instruct anyone, I'm not sure I have the power to anyway."
"What I want them to do is come to an agreement on the system that's being used."
Asked if he wanted Wales' Finance Secretary Mark Drakeford, a supporter of Mr Corbyn, to takeover from Carwyn Jones, he said: "I'm not going to interfere in the election of the leader in Wales, because I've made it my business since I became party leader not to involve myself in local selections for parliamentary candidates or in the elections of leaders in either English regions, Scotland or in Wales and I don't intend to change that."