'Complete rethink' call over energy efficiency deal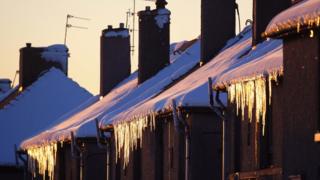 The owners of a company who have been awarded a multi-million pound contract by the Welsh Government had been caught up in a Scotland Yard fraud investigation.
It involved allegations of overpayment in relation to works carried out by a third party subcontractor.
Housing services company Lakehouse have denied any wrongdoing.
Plaid Cymru AM Adam Price said the Welsh Government's procurement policy needed a "complete rethink".
Everwarm, who were bought by Lakehouse in 2014, have won the tender for Arbed 3, a scheme aimed at improving energy performance in Welsh homes. The contract is worth up to £50m over three years.
Melin Homes, who won the contract for Arbed 2, submitted a joint bid with Grwp Cynefin for phase 3.
In the evaluation process Scottish-based Everwarm received the same score as Melin/Cynefin on Welsh language provision. Melin/Cynefin have appealed against the Welsh Government decision to award the tender to Everwarm.
Cabinet Secretary for Finance and Local Government Mark Drakeford told AMs there will be a further period of analysing the Everwarm bid following concerns raised by politicians and legal submissions by other bidders.
In 2014 Hackney council referred an allegation of fraud to the Metropolitan Police's Complex Fraud Team. The investigation related to alleged overcharging involving works by a subcontractor which formed part of a £184m government grant to renovate council properties and install fire and smoke alarms and emergency lighting.
Lakehouse have denied any wrongdoing. The company said: "There are no current open routes of enquiry however we can confirm that the matter was handled by the police at the time of the incident."
Lakehouse were responsible for certifying the fire alarms in Grenfell Tower in North Kensington, west London. The company has said that it is satisfied that the alarm system "was maintained in accordance with the requirements and all evidence presented to date indicates that it performed as it was designed to do".
In July 2017, following the Grenfell Tower fire, Hackney council in east London wrote to 166 council chief executives. In his letter the Mayor of Hackney Philip Glanville said work carried out by Lakehouse on a number of properties in Hackney were "defective" including "incorrectly installed alarms and emergency lighting systems".
Mr Glanville said he was writing "in the wake of the tragedy at Grenfell Tower" but added: "We have no evidence to suggest that work carried out on contracts to other councils, by Lakehouse, or its subcontractor Polyteck, was in any way at fault, so we do not wish to cause undue alarm."
Lakehouse have said that the allegations related to claims of works being carried out by a subcontractor to below the contractual standard required. They say: "There has never been any suggestion of wrongdoing on Lakehouse's part, nor compromise in the interests of resident safety", adding that they have a good relationship with Hackney council and continue to carry out work for them.
According to high court documents Lakehouse agreed to pay Lewisham Council and Haberdashers Askes Federation Trust £8.75m in December 2017 to cover costs, interest and damages caused by fire at at a south London primary school which broke out after its subcontractor had been carrying out "hot work" and a propane gas cylinder which had apparently been left on the roof ignited.
The firm had subcontracted the work to Cambridge Polymer Roofing as its roofing subcontractor. Lakehouse say the court papers now allow for those insurance costs to be sought from the sub-contractor.
Lakehouse said: "The incidents relate to Lakehouse Contracts Limited, the property services arm of the Lakehouse Group. These are historical in nature - namely 5 years ago and in fact Lakehouse now continues to work with Hackney and have a good working relationship.
"Neither of these instances are relevant to the bidding contractor Everwarm."
Plaid Cymru AM Adam Price said: "Residents whose homes are set to be insulated as part of this new Welsh Government energy project may rightly feel anxious about the alleged record of the companies involved.
"These households deserve reassurance that their safety will not be compromised and the government must provide this at the earliest possible opportunity."
Following legal representations by another bidder the Welsh Government will extend the 'stand still period' until April 30 to allow "clear and comprehensive consideration of issued raised".