Senior MPs criticise Swansea Bay tidal lagoon delays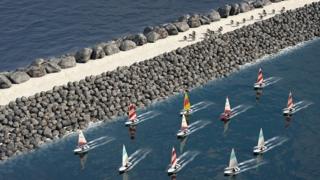 Delays in deciding whether to approve the proposed Swansea Bay Tidal lagoon have been criticised by the chairs of two House of Commons committees.
Ministers will face questions about the green energy scheme from MPs on the business and Welsh affairs committees.
The Hendry review backed the project more than a year ago, but UK ministers have said they "will not be rushed".
Tidal Lagoon Power has been negotiating a guaranteed price for the power it would generate, with the government.
Ministers insist the deal, on what is known as the strike price, must be good value for consumers.
Business committee chairwoman Rachel Reeves said: "The Swansea Tidal Lagoon project has been a tale of indecision with the government having dithered over this for five years and still to reply to the Hendry Review, published over a year ago.
"The government's consistent failure to give a clear indication of whether they will provide taxpayer support has left investors in limbo."
Welsh Affairs Committee chairman David Davies said there were "still serious questions" about the environmental impact and value for money of the lagoon, but added: "Without backing from the Welsh and UK government the tidal lagoon will not progress.
"The UK government continue to delay deciding on whether to support this project, and while the Welsh Government has offered funding to kick-start the project, this offer lacks detail.
"This session will help us understand if that backing would be worthwhile."
The committees' joint inquiry starts in Westminster on 9 May when MPs will take evidence from Charles Hendry and Mark Shorrock, chief executive of Tidal Lagoon Power.
Ministers from the Welsh and UK governments will face questions at a later session.