Neil Hamilton calls for 'Welsh stamp' on UKIP Wales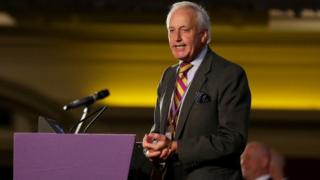 It is likely UKIP Wales will become more independent from the rest of the party, according to leader Neil Hamilton.
The Mid and West Wales AM said he wants to put a "Welsh stamp" on UKIP to show that the party is "more than just Europe".
Although he warned against dumping "an established brand", he said it could be supplemented with "something else".
The party suffered poor results in English council elections last week.
In the interview with BBC Radio Wales' Sunday Supplement programme, Mr Hamilton also told of his desire to see Wales "become a tax haven" with "proportionate regulation on business".
UKIP has five AMs in the Welsh Assembly. In Thursday's English local elections the party won three seats, but lost over 100.
Asked if more distance and independence for UKIP Wales would be tempting, Mr Hamilton said: "Inevitably devolution makes this not just a possibility, but something that's likely to happen."
He said he did not think there would be a new name and added: "It's a danger if you dump an established brand which people recognise on sight."
But he said: "We might supplement it with something else, to cement the specifically Welsh nature of UKIP Wales."
"We've been thinking about various ideas," the AM explained.
Mr Hamilton added: "I'm not in a position to discuss them at the minute, but I do want to put a Welsh stamp on UKIP in the future because after the MEPs disappear in a year's time, we won't have any parliamentary representation apart from in the House of Lords, anywhere else.
"So everybody will, if they look at UKIP, be looking at us here in Wales where we are up and down in the assembly, day in and day out, fighting on domestic political issues.
"So then it'll be easier I think for the wider public in the UK to see that UKIP is more than just Europe."
He said that UKIP Wales had to "try and make" the devolution process work even if it had originally been against it.
"I see advantages in having a kind of federalised United Kingdom where you can have different solutions to problems in different parts of the country.
"I want to make Wales into a kind of tax haven, and a haven for proportionate regulation on business to try and grow the Welsh economy and the tax base, because we're the poorest part of the UK."